Taste of Randolph Is Set to Be Back This 2022 in West Loop Neighborhood
Taste of Randolph is a three-day festival usually held in mid-to-late June. The street festival celebrates West Loop's restaurants and brings bands from across the country to the neighborhood. It is one of the city's most popular summer festivities. Last year, it has been canceled for the second time in a row. Good thing it is coming back this year!
In addition to a strong lineup of performers, the yearly event allows attendees to sample some of the West Loop's most popular restaurants without making a reservation. This will happen on June 17-19, 2022.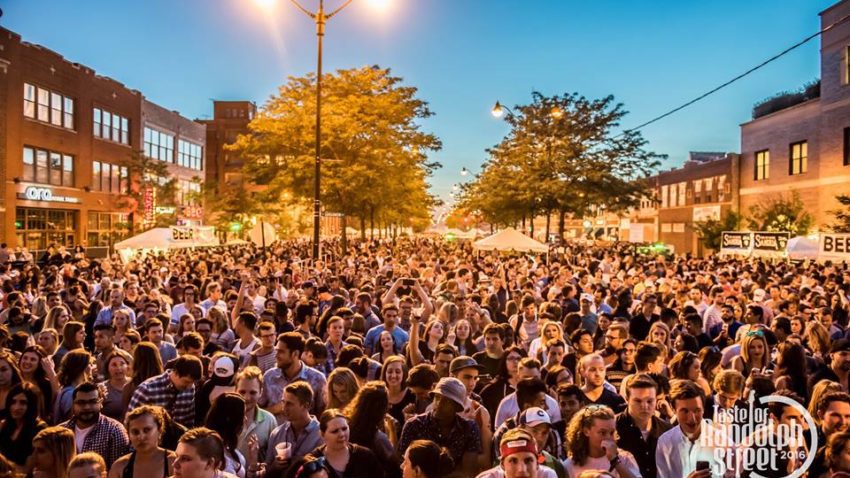 The Taste of Randolph has been a Chicago festival fixture for the past 25 years. And the year 2022 will be no exception. Star Events and WLCO will bring together the greatest and brightest names in Chicago dining, with over 16 restaurants known for their exquisite cuisines and seductively distinct flavors. To amuse visitors on their gastronomic excursion, StarEvents has chosen a selection of the nation's best up-and-coming bands and performers, as well as the greatest names in Chicago house music, who will play on two stages and a DJ stage.
The suggested donation for admission to the festival is $10. The West Loop Community Organization benefits from Taste of Randolph, which has been campaigning for the West Loop area since 1991, promoting local businesses and economic growth.
After a day full of fun at the event, you can then stay at Hotel Chicago, one of the best hotels in the West Loop neighborhood, for a very relaxing rest. Book a stay now!
Exploring West Town's Split-Rail: An Amazing Restaurant From Chef Zoë Schor
Zoë Schor has expanded her vinyl collection. Diners will be able to hear those songs when the former Ada Street chef opened Split-Rail at 2500 W. Avenue Chicago.
The former Clyde's Donuts location has been transformed to match the welcoming atmosphere that Schor's menu aims to provide. Persian rugs, plants, and a variety of photos and paintings depicting classic Americana scenes adorn the walls. The yellow banquette backs are adorned with equestrian drawings of galloping horses, which contrast with the crimson-painted walls opposite a light-drenched ornate bar.
The dining room seats approximately 110 people, while the private room seats 30. Schor plans to add outdoor seating as well.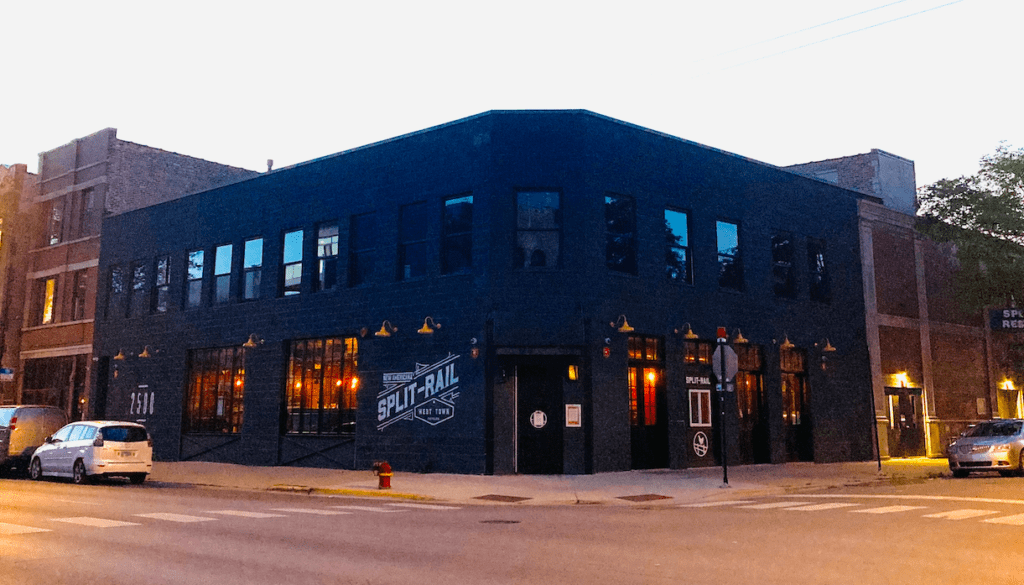 The dining room seats approximately 110 people, while the private room seats 30. Schor plans to add outdoor seating as well.
Schor described her menu as "fun comfort foods that evoke American nostalgia." Split-food Rail's will be described as "New Americana," with hearty items like chicken nuggets: "They're delicious and soul satisfying," Schor said. She stated that she plans to serve her own doughnuts for dessert as a sort of homage to the building's previous restaurant.
Vinyl music is important at Ada Street, and it will also be important at Split-Rail. Schor prefers to set the mood for cooking at home by listening to entire albums rather than setting the playlist to random. This whole-album approach will be applied to Split-Rail, where guests will hear a variety of soulful artists ranging from Miles Davis to Tracy Chapman to Regina Spektor.
And after an amazing dining experience at Split-Rail, you can book a stay at our hotel for a refreshing and relaxing rest. See you at Hotel Chicago!
Visiting Kumiko: A Refined Cocktail Destination In Chicago
An unassuming blue door transports you with Narnia-like efficiency into an oasis of Japanese calm on a quiet corner of Chicago's West Loop neighborhood, just a few blocks from the snaking line for Au Cheval. Kumiko, a cocktail and small plates bar with an emphasis on detail, is a sensory experience as well as a mixology and culinary one.
And would you imagine that this Chicago cocktail bar is considered as one of the best places on planet? Kumiko, a refined cocktail destination in the West Loop, has been named one of the world's best places to visit in 2019.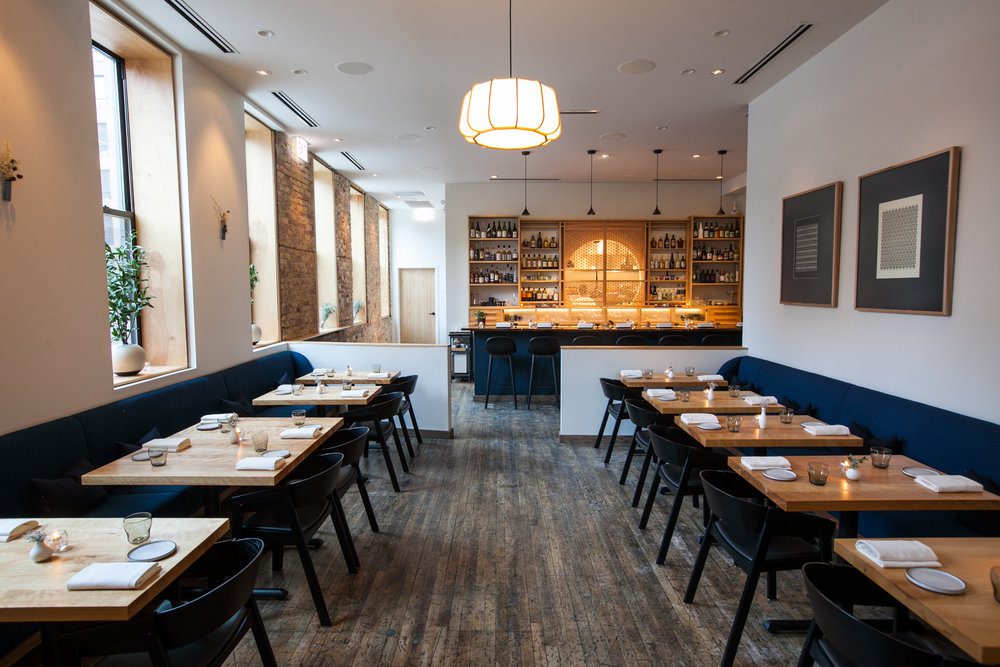 Julia Momose, Kumiko's co-owner, described her space to Time as "an expression of my Japanese heritage in a formal cocktail bar setting." Her pedigree includes Chicago standouts like The Aviary and Green River. She makes seasonal drinks  and combines them with chef Noah Sandoval's interpretation of Japanese cuisine, such as steamed baths and Japanese milk bread sweets.
Kumiko also offers a full spirits companion menu for non-drinkers, as well as a tasting dinner and drink pairing in a cozy eight-seat space in the basement of a restaurant called Kikko.
Kumiko is located at 630 West Lake Street in Chicago and can be accessed easily, hence you should not miss exploring this awesome place!
And after an enjoyful eat out and refreshing drink at Kumiko, you can book a stay at Hotel Chicago West Loop, a refined hotel in the West Loop neighborhood that will offer you great amenities for a very relaxing rest.
Things You Can Do in Chicago's Garfield Park
The Garfield Park neighborhood of Chicago is a nature lover's dream. The neighborhood is home to a sprawling network of green spaces, the centerpiece of which is the historic Garfield Park Conservatory. A trip to the neighborhood isn't complete unless you spend some time outside, but there's more to do and see outside of the park as well.
Begin your day at the beautiful Garfield Fieldhouse in the neighborhood's nameake park. The striking structure is designed in the ornate Spanish Baroque style and topped with a massive gold dome. Inside, you'll find a dramatic two-story rotunda with a colorful patterned terrazzo floor and marble-lined walls.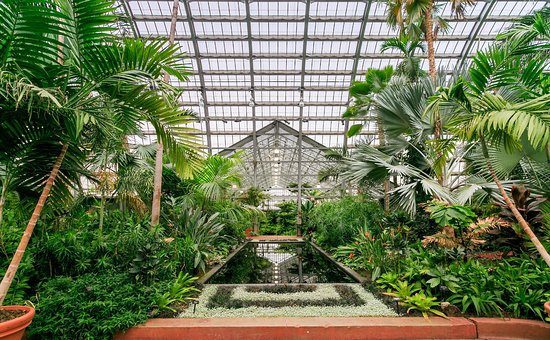 Take some pictures of the Fieldhouse before exploring the park grounds, which include lagoons, tennis courts, soccer fields, a playground, a swimming pool, and a flower garden.

Then, take a short walk to the Garfield Park Conservatory, a stunning glass structure that has been in operation for over 100 years. Outside, there are beautiful views of the conservatory and intricate gardens. Inside, you'll find rooms bursting at the seams with plants, flowers, and trees from all over the world.
The conservatory has no charge or fee to the public, but donations are welcome. Explore the themed rooms, which include palms, ferns, desert cacti, succulents, and other plants. Check out the events calendar — throughout the year, the space hosts beer tastings, yoga, coffee pop-ups, talks, and flower shows.
Drop by 345 Art Gallery in the afternoon. The gallery features a diverse collection of works by local artists, Chicago Public School students, and others. Check out their calendar for awesome events throughout the month.
Firebird Community Arts, located nearby, offers ceramics and glassblowing classes, private lessons, and workshops. The center's mission is to support those dealing with trauma by utilizing the healing nature of these art forms.
If you're an architecture fan, you can't leave the neighborhood without seeing Our Lady of Sorrows Basilica, one of the city's grandest churches known for its soaring interior, and New Mount Pilgrim Missionary Baptist Church, which has unique stained glass windows depicting powerful reminders of the African American community's struggles from the slave trade to the present day.
And if you wish to spend a relaxing stay nearby, you can visit Hotel Chicago for a great hotel experience. Aside from the cozy rooms we got, you will also enjoy hallways full of wonderful artworks. Book a stay with us now!
Texan Taco Bar Finally Opens in West Loop Neighborhood
This new restaurant, owned by Michael Bisbee and Tim Hendricks of Parlor Pizza Bar, has been in the works for a long time. The duo first announced the new concept in 2017, with a planned opening date of Summer 2018, but many delays forced them to be patient. According to Eater Chicago, they now hope to open their own Tex-Mex restaurant in the spring of 2022. The original Parlor Pizza Bar, which opened in 2014, will be just a few blocks away from Texan Taco Bar.

There aren't many details about the new Tex-Mex restaurant, except that it will have a country music theme. Guests can expect chips and salsa on the table, a variety of meats on the grill, and numerous longhorns on the wall. Details about specialties and drink menus are still unknown. What is known is that this is a fantastic opportunity for Bisbee and Hendricks, as the area surrounding the new restaurant has almost no Tex-Mex restaurants (or Mexican at all other than a Taco Bell Cantina).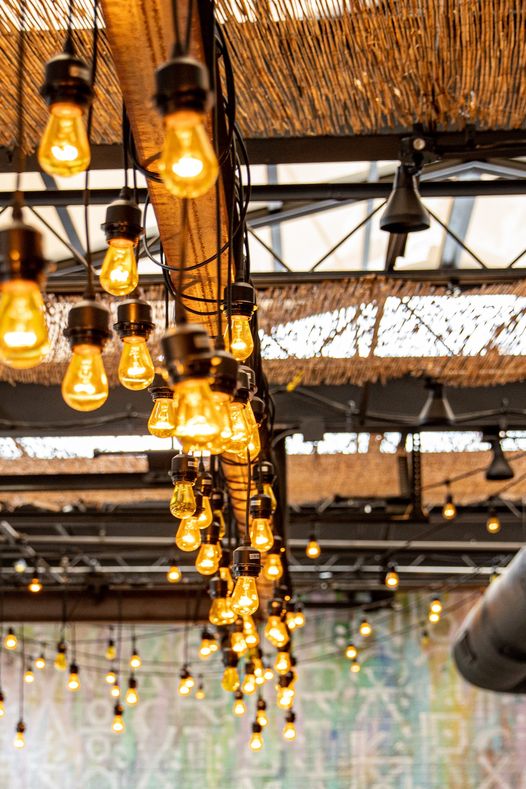 The pair hopes that this new restaurant will serve as a new beginning for their reputation. After a  surprise visit from the IRS last fall, all three Parlor Pizza Bars were forced to close their doors. Later that year, a local publication, Block Club Chicago, published a lengthy expose accusing the restaurants of various wrongdoings. After all of that, and with all three Parlor Pizza Bars reopened, Bisbee and Hendricks are hoping that this new Tex-Mex restaurant will help them get back on track in Chicago.
After enjoying your day at Texan Taco Bar, you can then take a relaxing rest at Hotel Chicago. Book a stay with us now!
Kuma's Corner: A Must-Visit Food Spot in Chicago West Loop
The signature Kuma Burger, which is made with bacon, cheddar, and topped with a fried egg, helped this hard-rocking burger bar make its mark on the scene. There are so many burgers to choose from, and the majority of them have a heavy metal theme and are named after bands like Pantera and Iron Maiden.
Expect a long wait for a seat, but it's well worth it, especially for the make-your-own mac and cheese option. You're always going to be crowded when you're this popular. Taking in the atmosphere is an important part of the Kuma's experience.
As if the West Loop didn't already have enough of the city's best restaurants, Kumu's Corner has established itself in the trendy neighborhood. Kuma's Corner, which currently has two bustling locations in Avondale and Lincoln Park, is a Chicago institution.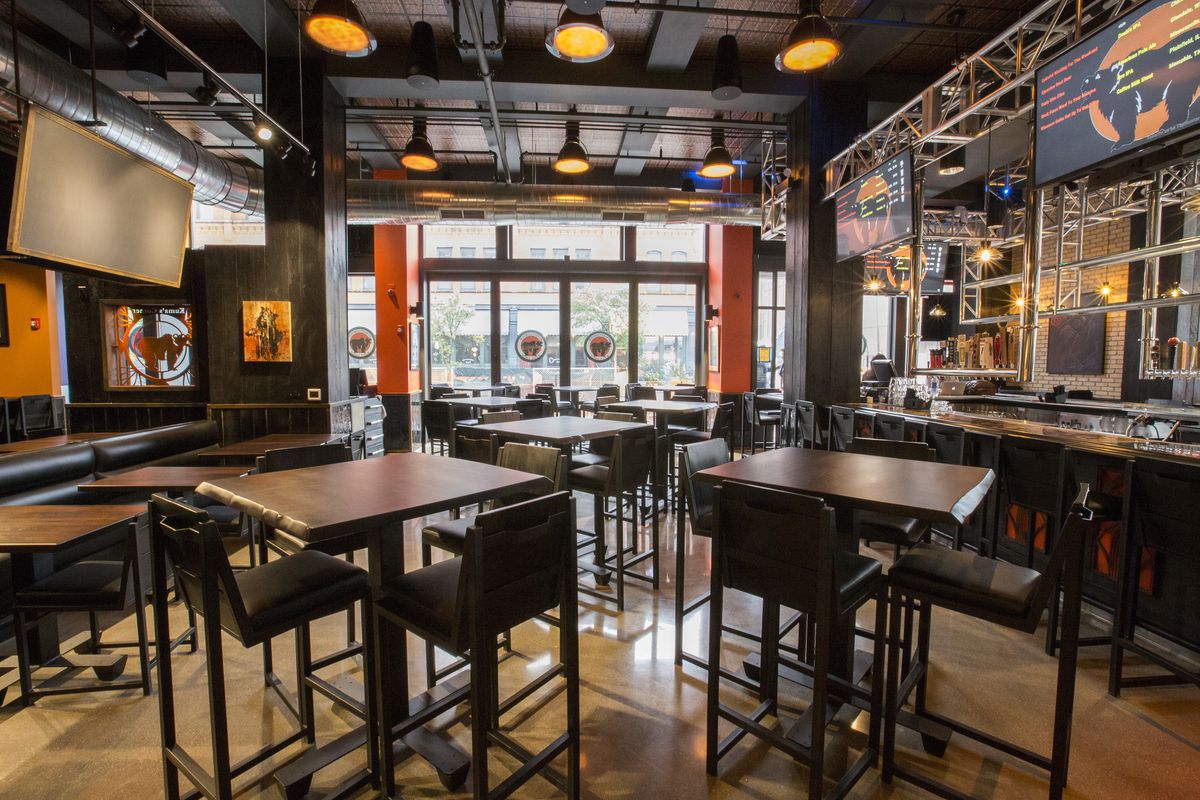 Kuma's "thing" is heavy metal, as evidenced by the hard-hitting music blasting from the speakers and the aggressively prepared burgers piled high with gourmet toppings. If you've never been, it's obvious what the place is all about because you're immersed in the theme from the moment you walk in. Each burger is named after a metal band and includes ingredients inspired by their image. Everything on the menu is guaranteed to satisfy even the most rabid eaters.
This awesome food spot is located at 852 West Fulton Market, with an enjoyable atmosphere through very cool flat-screen TVs that show every major game (as well as the occasional horror movie) for anyone who wants to come in and enjoy a great meal and beer.
After a great meal at Kuma's Corner, you can take a relaxing rest at our accommodation here at Hotel Chicago!
Book a stay with us now!
Enjoy BomboBar at West Loop Neighborhood
Upon visiting the Westloop neighborhood in Chicago, you will be able to see a great food attraction called BomboBar located at 832 W Randolph St., Chicago, IL 60607.
What began as a side concept and fast-casual walk-up eatery has evolved into much more. In addition to Executive Chef Fabio Viviani's famous Bomboloni, BomboBar's West Loop Walk-Up Window serves coffee, gelato, over-the-top seasonal chocolate beverages, and savory sandwiches.
BomboBar is the creation of the same people who brought you Siena Tavern, Prime & Provisions, Public House, and Barrio, all of which specialize in Italian cuisine. There are several boozy options available, and guests can order them by the ounce. Rose, red wine, and vodka lemonade are among the beverages available.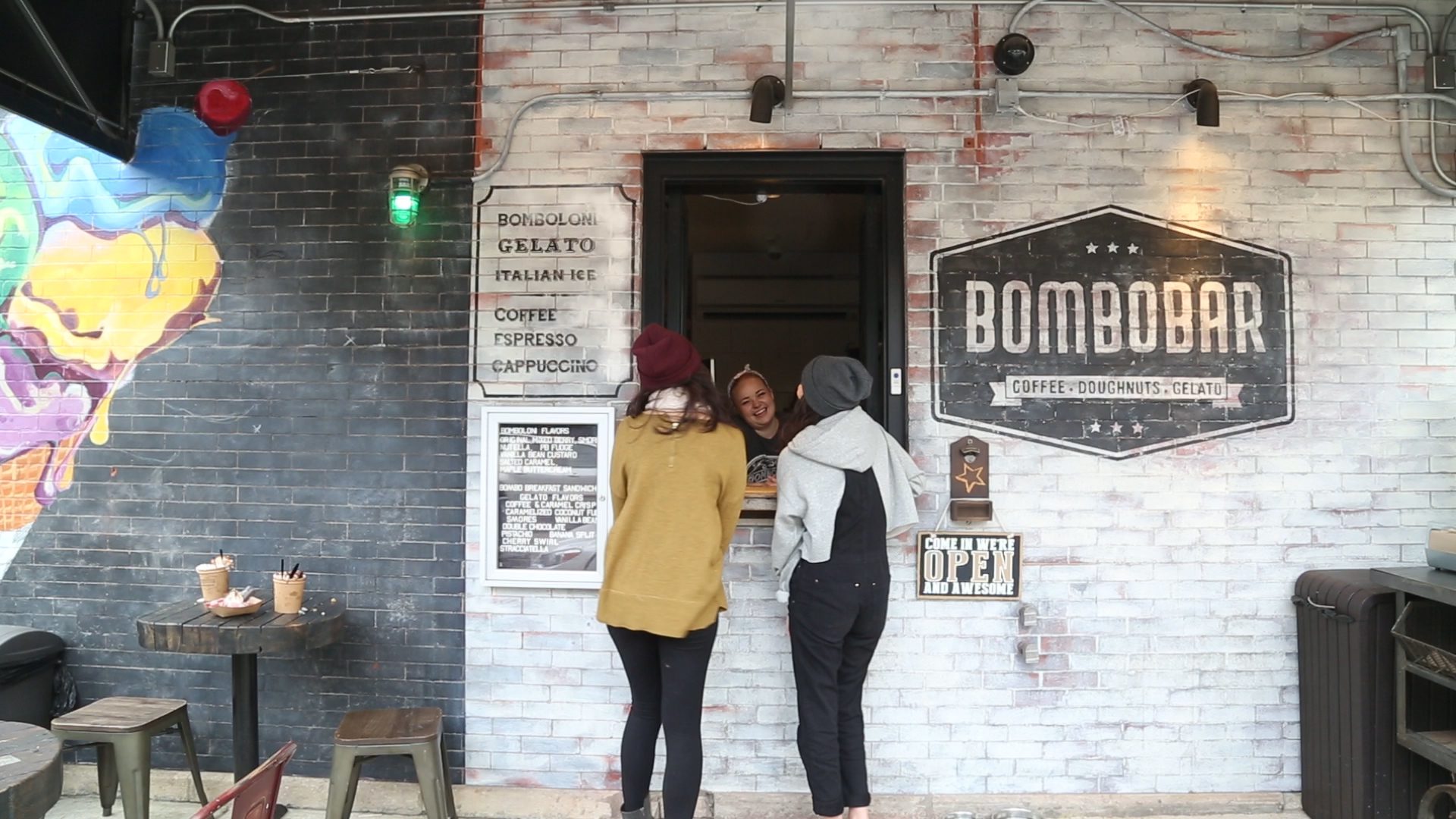 Beyond the signature bomboloni, which can be dressed up with vanilla bean custard, raspberry, and Nutella, desserts range from house-made gelato and gelato sandwiches to CBD-infused chocolate shakes.
The exterior of BomboBar West Loop changes with the seasons, alternating between a BomboCafé and a cozy heated enclosure. Doggie doughnuts, woof-cream, and dairy-free gelato are available for canines.
After spending time visiting BomboBar, you can take a rest at Hotel Chicago West Loop. We will ensure that you will be having a great hotel experience with us! Book a stay now!
Exploring Primitive in Chicago West Loop: What to expect inside?
Visiting the West Loop has always been fun as this awesome rising city is built with many attractions you and family or friends can enjoy, ranging from food locations to beautiful parks. One of these awesome attractions is the Primitive located at 130 N Jefferson St, Chicago, IL.
The first step you take inside Primitive's West Loop location lands you on a 1,000-year-old stone floor. Then your eyes are drawn to a reconstructed Chinese village house, and the awe only grows from there.
This four-story commercial gallery houses artifacts, sculptures, furniture, textiles, and jewelry from nearly every non-Western culture on the planet. Glen Joffe and his staff travel to exotic locations to collect rare objects from exotic cultures, including Africa, Indonesia, South, and Central America, Asia, Tibet, India, and countless other places.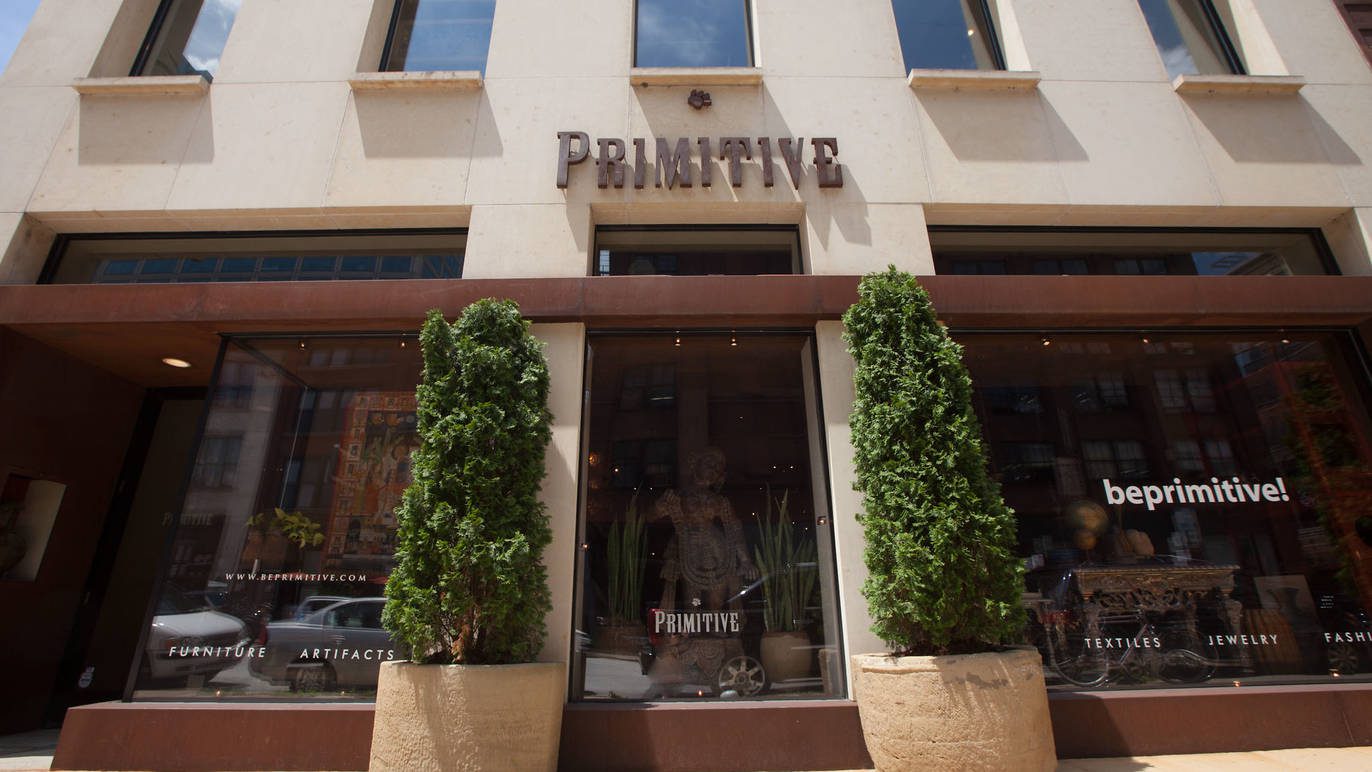 The gallery's extensive collection, alongside Primitive's line of private clothing and furniture, is specially designed to complement genuine works manufactured and collected abroad. The goal of Primitive is to merge these objects into a wonderful experience that conserves the romanticism of traveling and world culture.
Each floor of the complex offers a unique environment. In the basement, there is a primitive repair workshop for damaged items. A collection of clothing, jewelry, and furniture are on display on the ground floor. Clients can also relax and learn more about the cultures represented throughout the gallery by visiting the extensive library.
On the second floor, there is a recreation Himalayan temple with water offering stone, as well as the "Rare Room," which houses museum-quality artifacts.
The third floor is devoted to textiles, tapestries, and rugs, while the fourth floor houses a Moroccan tea room that is open to the public on a daily basis.
Finally, the roof houses a public Japanese garden.
All in all, this place is a must-visit spot in the West Loop neighborhood! And after exploring this amazing place, you can end the day by relaxing at Hotel Chicago wherein you can also see wonderful artworks along the hallways. Book a stay with us now!
Blind Barber at West Loop: Barbershop at Day, Crowd's Favorite Lounge at Night
Barbershop in the front, a lounge for a party in the back – that is how Blind Barber can be portrayed. It is a new neighborhood barber and lounge in Chicago's Fulton Market district. Invented, designed, and built by 555 International, this is the third location for two destinations, the original location in New York City and the second location in Los Angeles.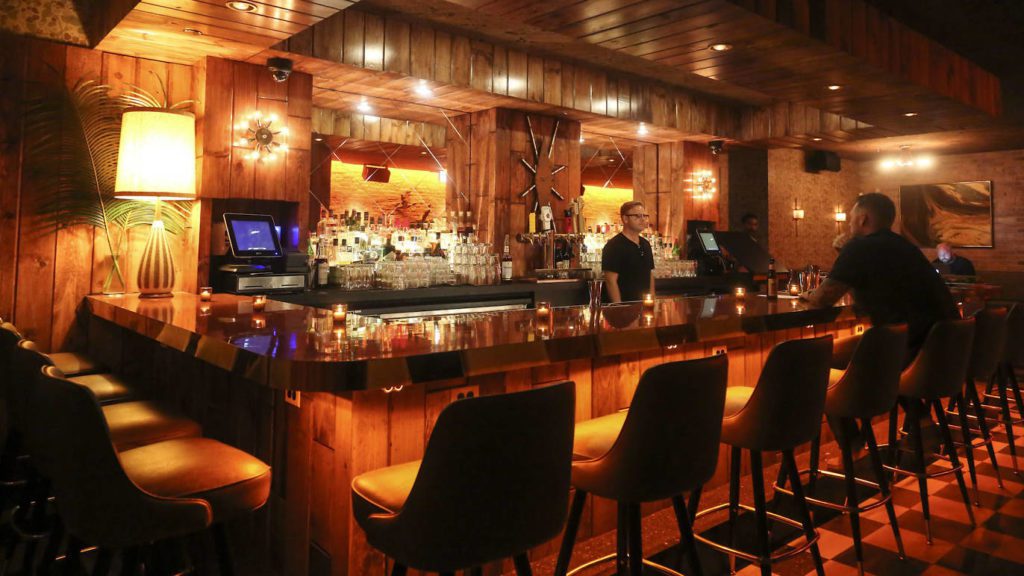 Once inside, those who don't know the way around do not doubt that Blind Barber is not the modern view of a good old hairdresser. White walls, tiled floors, and ceilings with wooden beams, classic steel, and black leather barber chairs, tall mirrors, and modern mid-century furniture. On the other hand, the wall that directly surrounds the mirror is slightly eroded, otherwise, try/do not try cool industrial grain in a nicely cut (prank) space.
They want a Rec Room atmosphere, but at night the music adds to the atmosphere. Customers will find orange leather sofas and knotted pine walls. Fulton Market was once the center of Chicago's meat industry, and the space uses stained glass windows in honor of the region's history. The bar covers an area of ​​2,400 square feet and the hair salon is 800 square feet. We offer 20 types of grilled cheese sandwiches, tacos, and salads. The restaurant enters through an unobtrusive back door.
After a day spent in Blind Barber, you can spend it further at Hotel Chicago to provide you with a relaxing stay. Book a stay now!
Big Monster Toys: Here's What's Behind The Big Yellow Door You've Been Seeing Online
Don't worry if you've ever done a double-take while walking down Racine Ave., we believe the big green monster is friendly.
After spending a lot of time following Chicago's Instagrammers and walking the West Loop, you may have seen a huge yellow door with big green monsters shimmering. What the hell is that? You've probably wondered. Well, behind that very Instagrammable door is Big Monster Toys, the creator of all your favorite kid's toys.
This big green monster actually protects one of the largest toy and game makers in the country. Big Monster Toys designs toys for many large companies such as Mattel, FisherPrice, Hasbro, Disney, and Little Tikes. In fact, Polly Pocket, Hot Wheels, some Barbies, My Dream Puppy, and Uno Attack all came from this Chicago design company.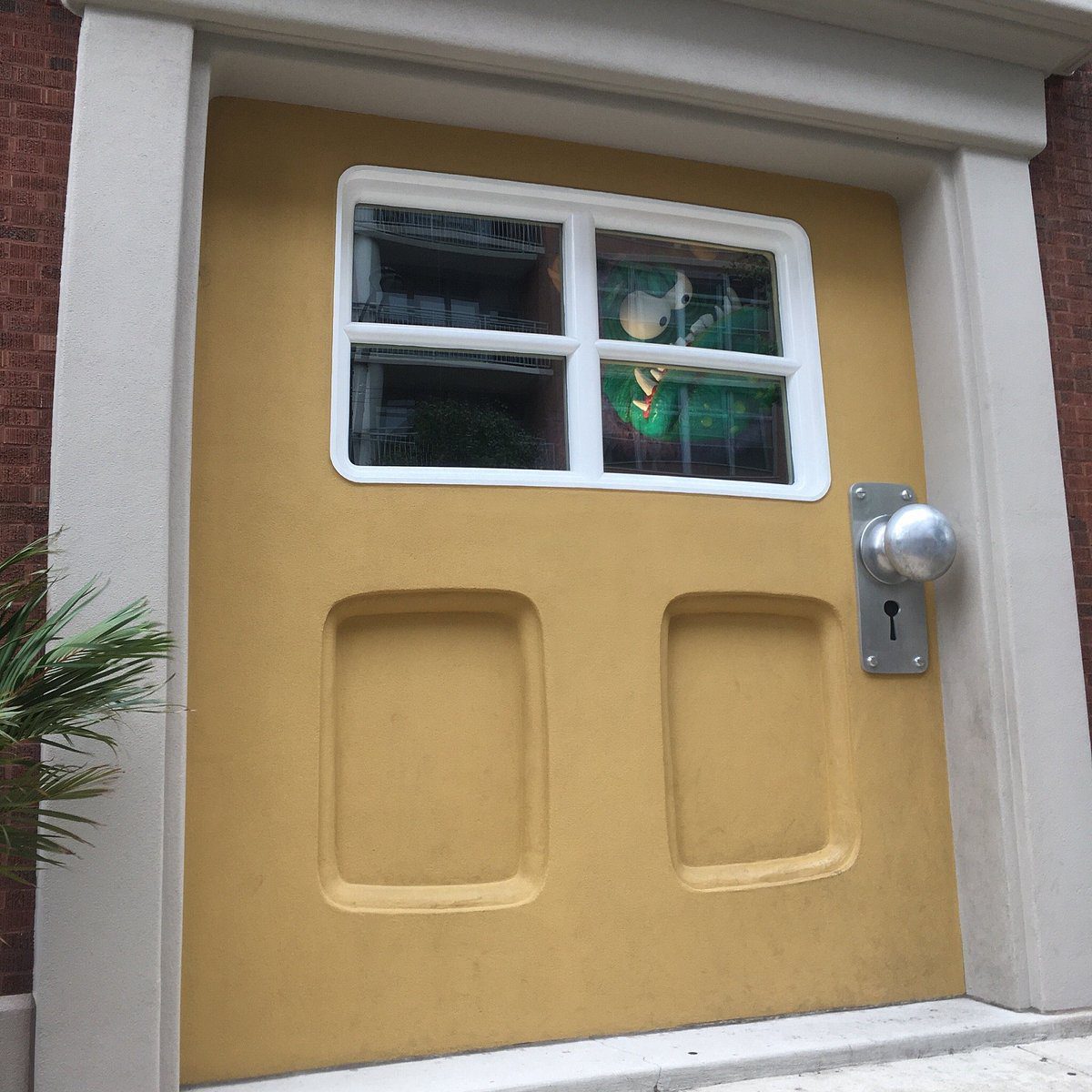 Chicago has a great history of toymakers. Many famous toys have emerged from Windy City, including Tinkertoy, Lincoln Logs, Operations, and Mystery Date. Many of these simpler toys and games have fallen in popularity in favor of virtual fun, but since 1988 BMT has been devoted to playfulness in Chicago.
Behind the big yellow door makes it even more fun. BMT offices are as playful as the toys they make. The kitchen is shaped like a  caboose, with giant giraffes monitoring production and giant elevated trains meandering throughout the building. WeWork has nothing to oppose this office!
BMT is usually not open to the public, but it can open huge doors for open house events. Keep an eye out for these great ways to explore the best toy design shops in the country.
The building's comically large door is also a popular Instagram location. Chicagoans enjoy pretending to dangle from the large doorknob or to duck in fear from the green monster peering out the window. Take a moment to be grateful for the childhood fun you had with BMT toys the next time you scroll past that comically large door or pass by it on your commute.
Take a selfie with the big door. We love seeing your silly photos of you attempting to turn the massive doorknob.