Introduced in spring 2018, The Annex | Murals is an ongoing bi-annual initiative designed to feature works by Chicago-based street artists in our guest rooms. To date, we've featured works by Asend, Elloo, Josh Grotto, Brandin Hurley, JC Rivera, & More!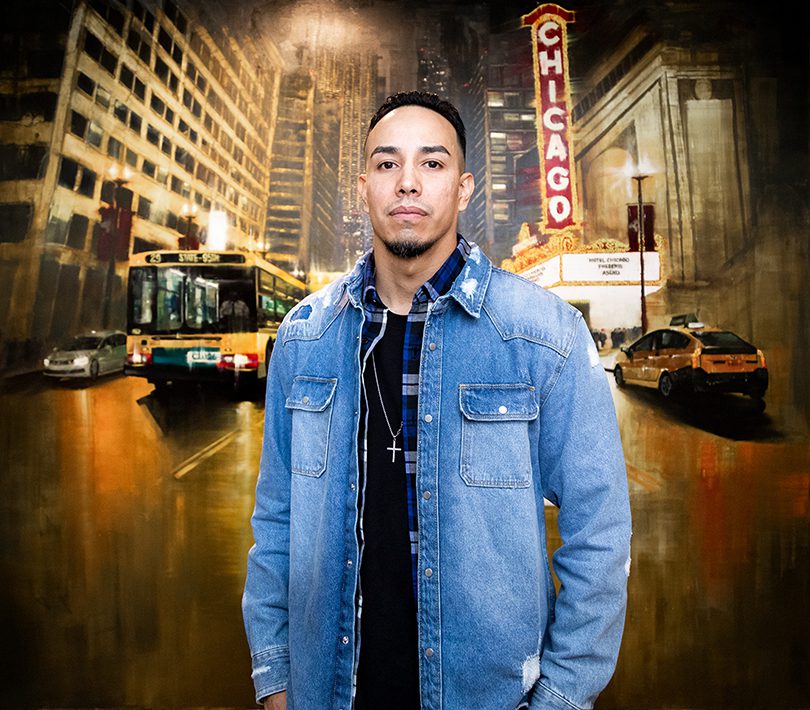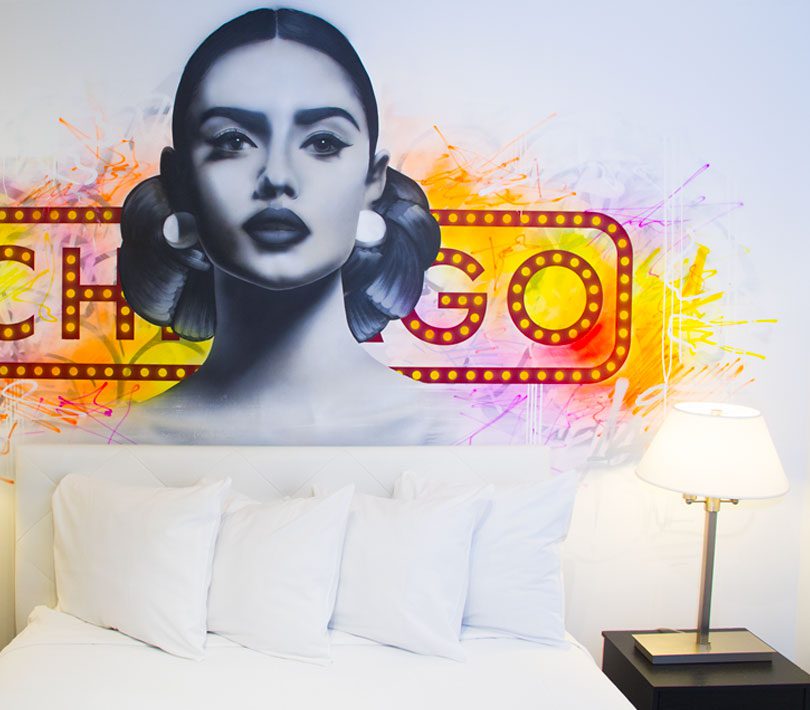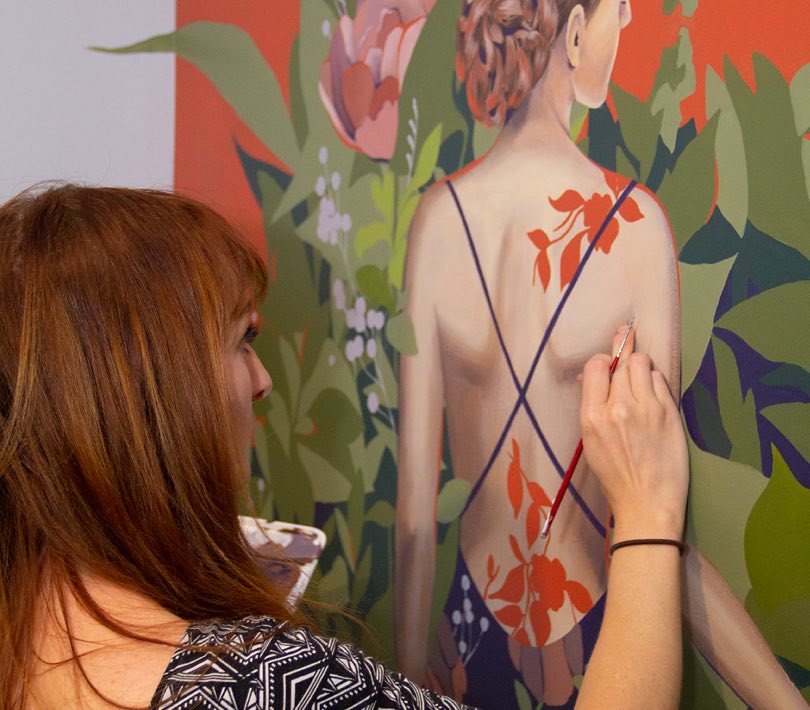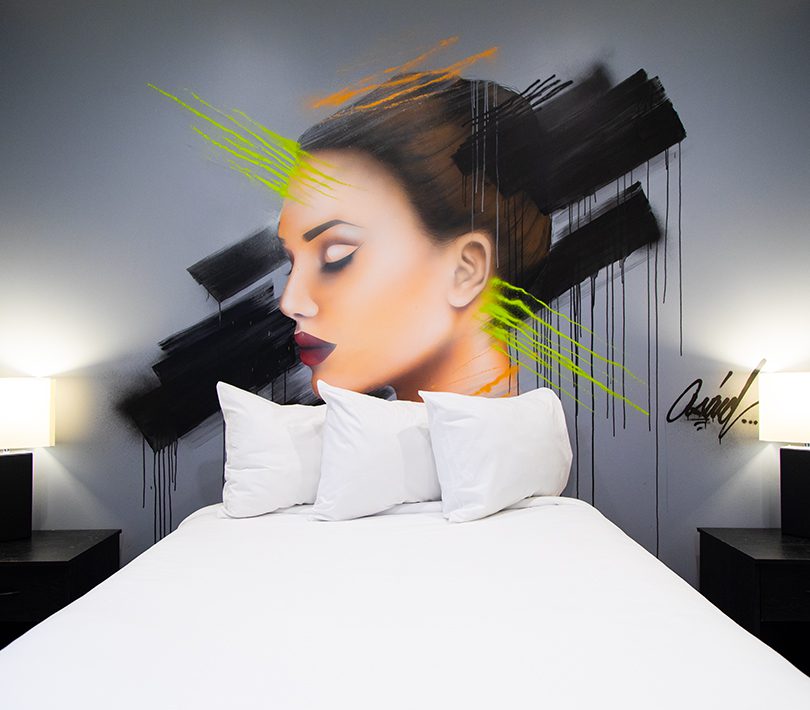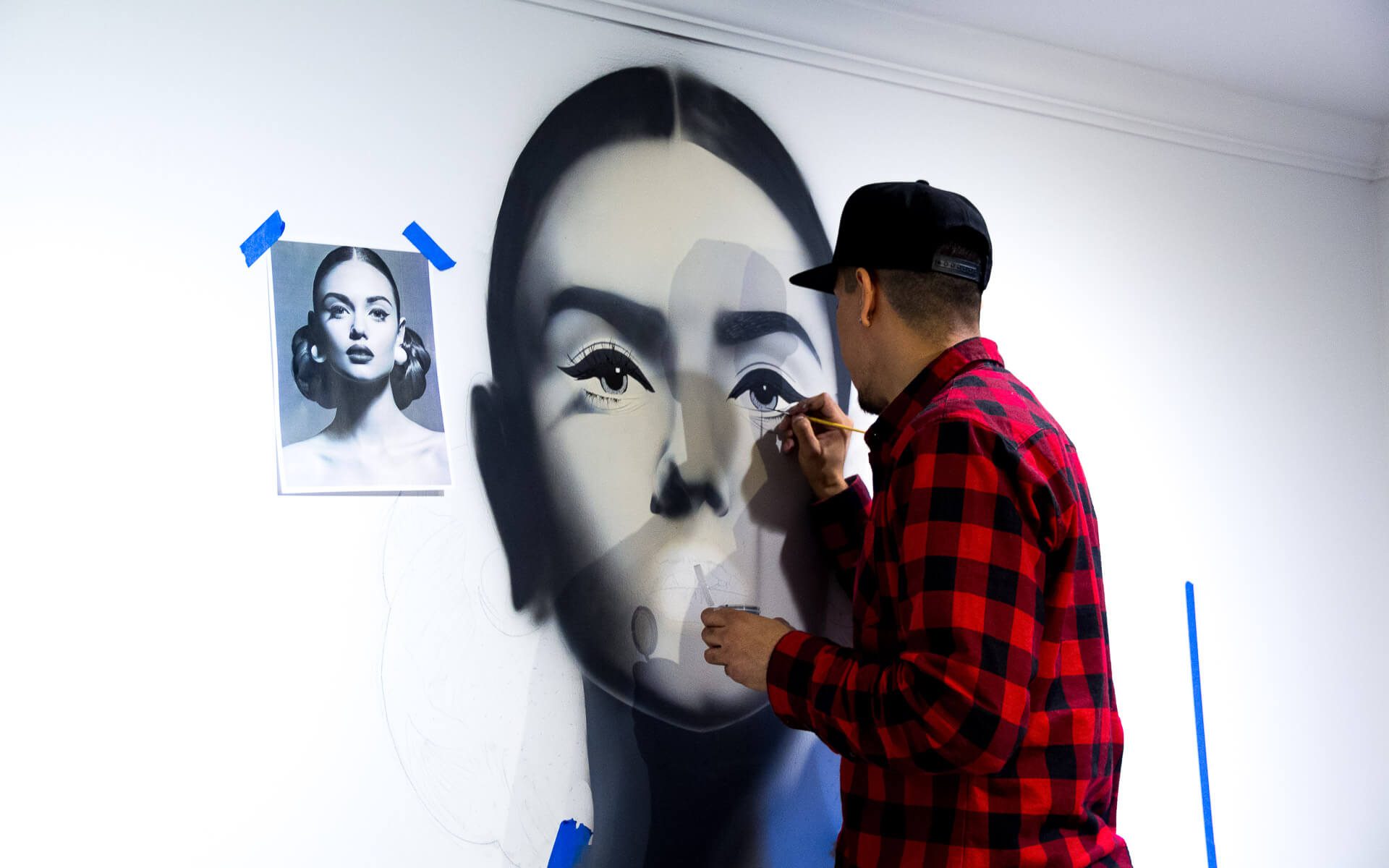 I am starting a series that focus on a classical painting approaches to portraiture, with contemporary/colorful backgrounds. The idea is to study the contrast between the smooth, subdued aesthetic of oil portraits, versus and the vibrant/loose feel of street art mediums like cans and sprays. The result is an intersection of classical painting with an urban vibe.
For The Annex project, Frank wanted the mural to celebrate the city's architecture by immersing his character Pancho in iconic urban features unique to Chicago. The fun and illustrative mural is meant to inspire guests to explore the city and remind them how cool it is.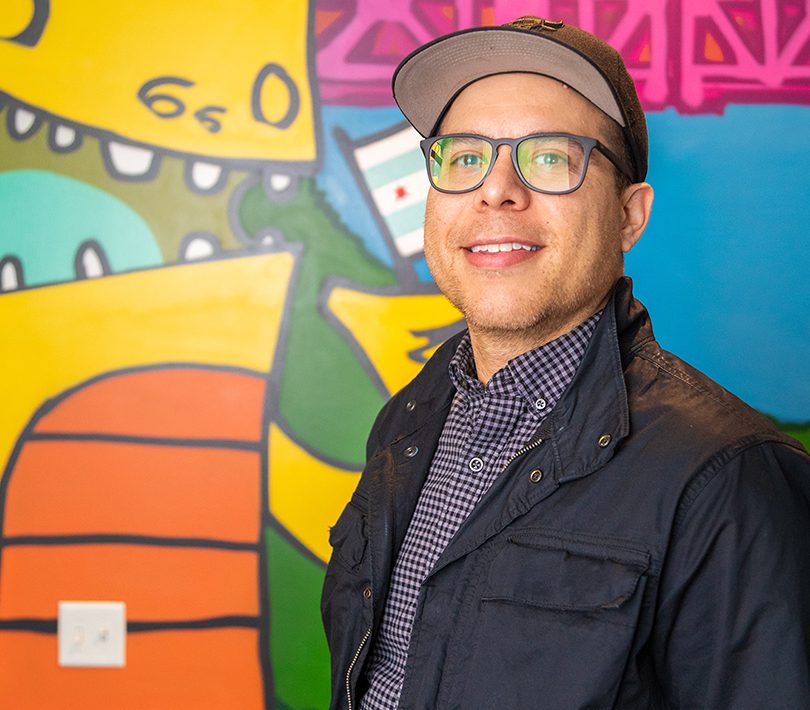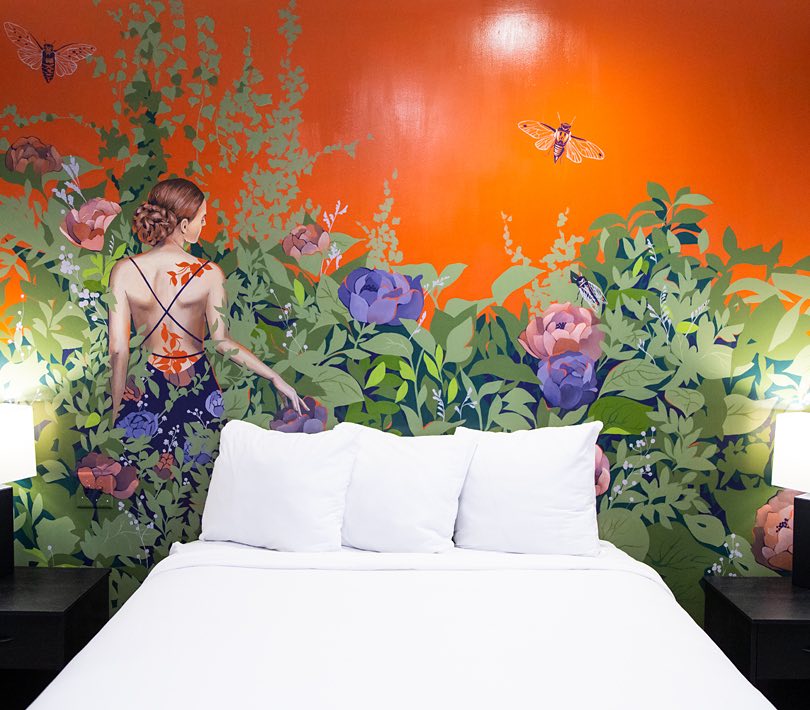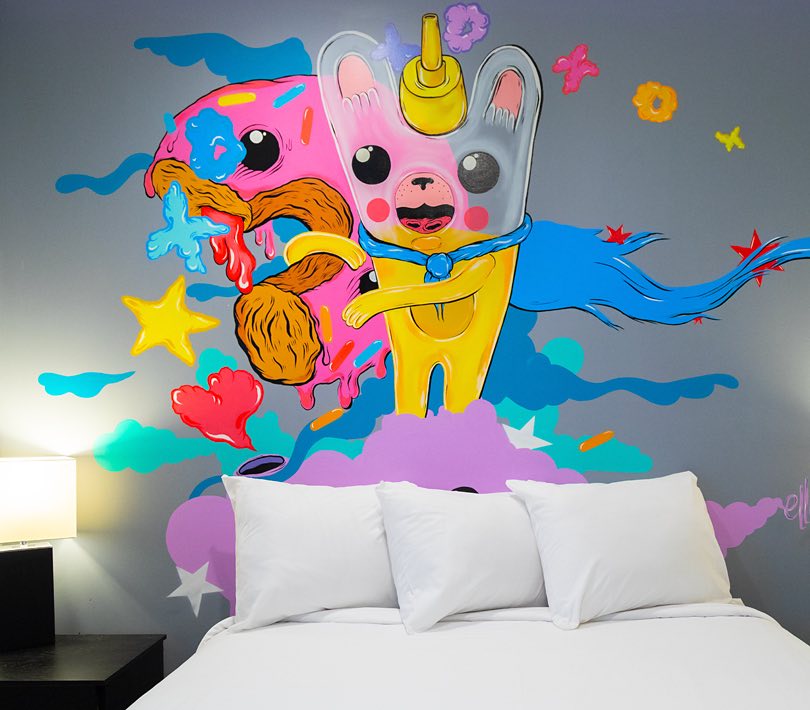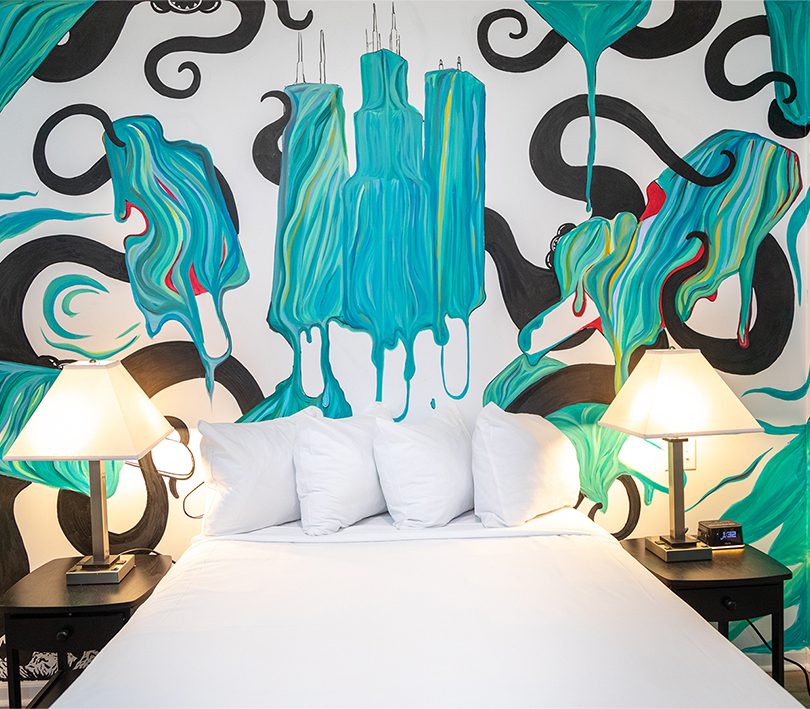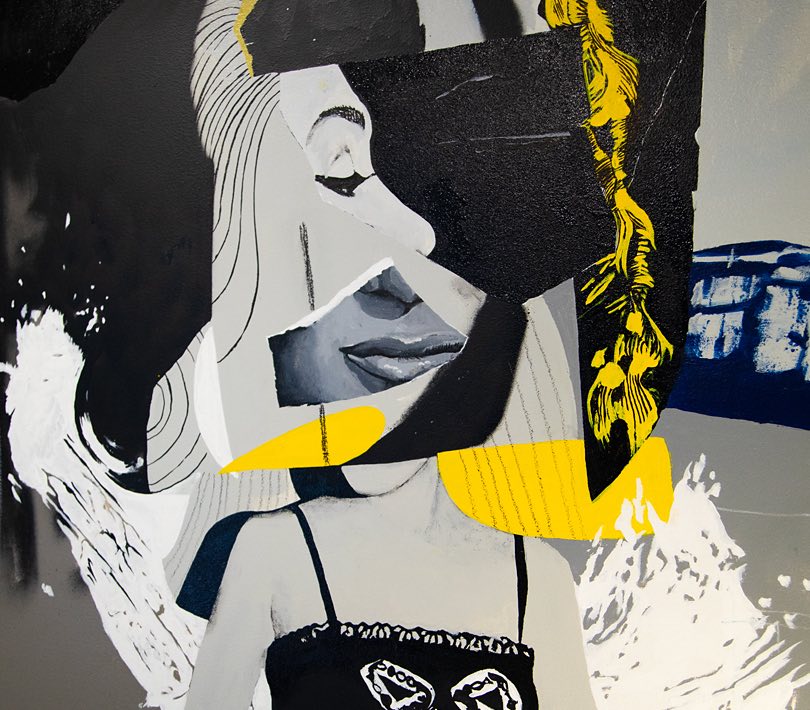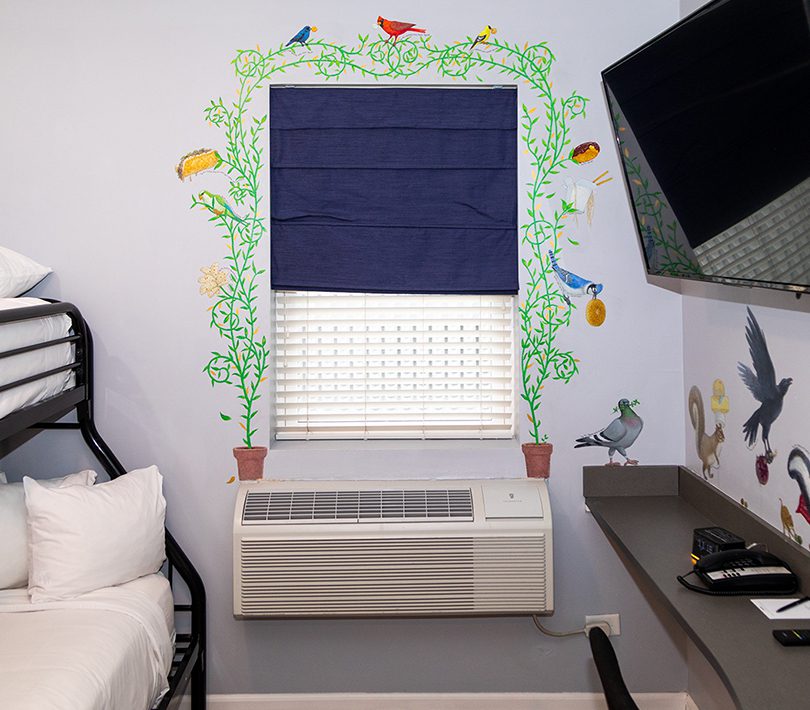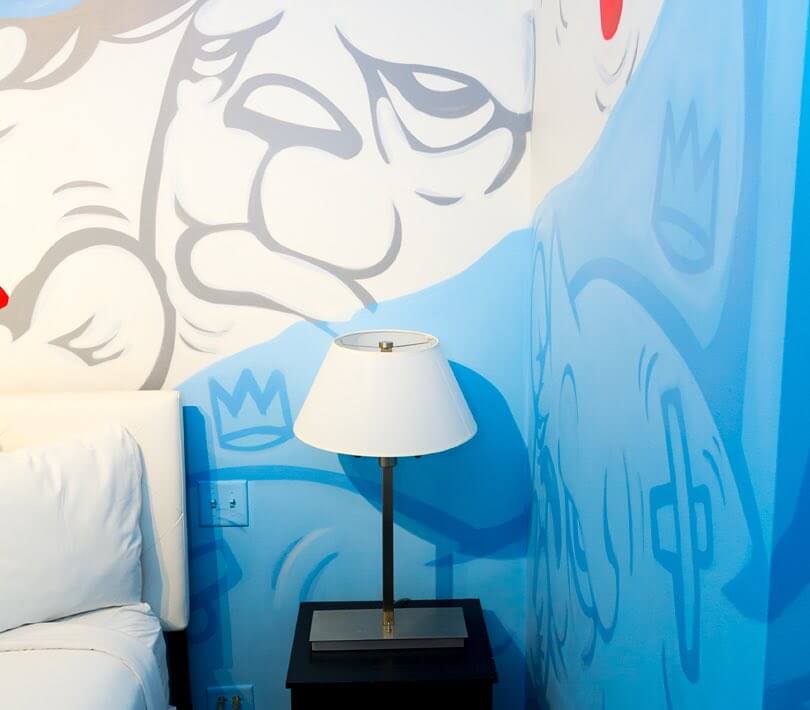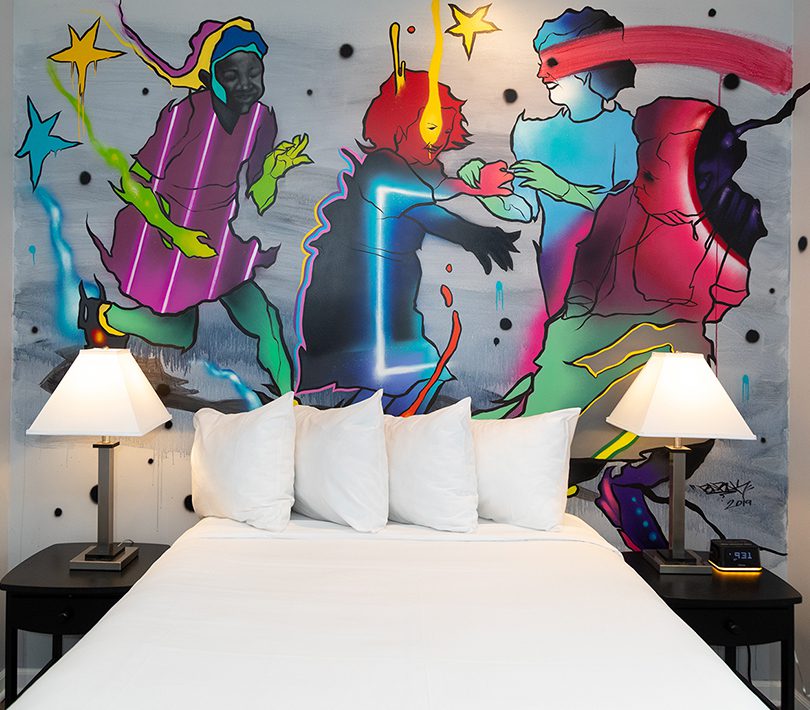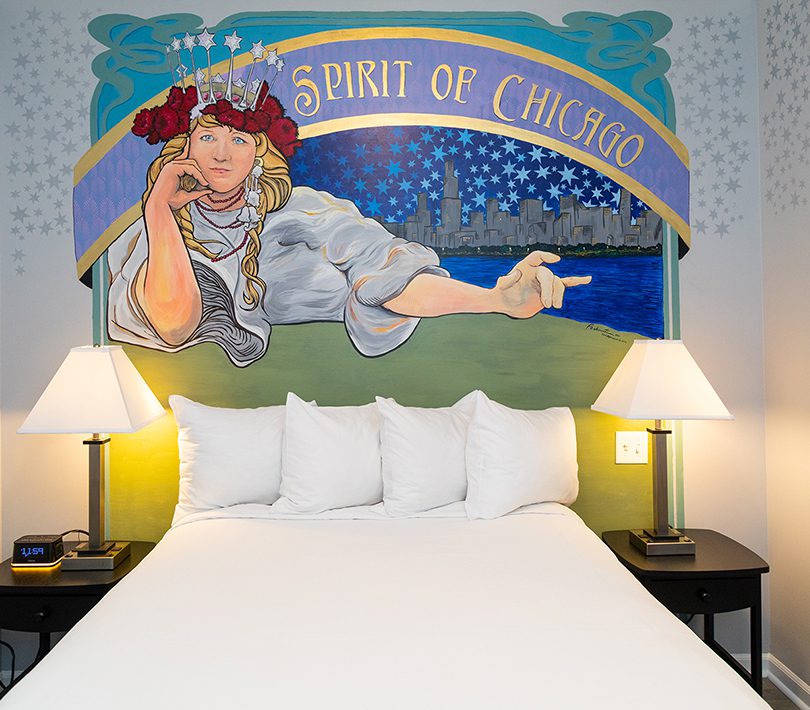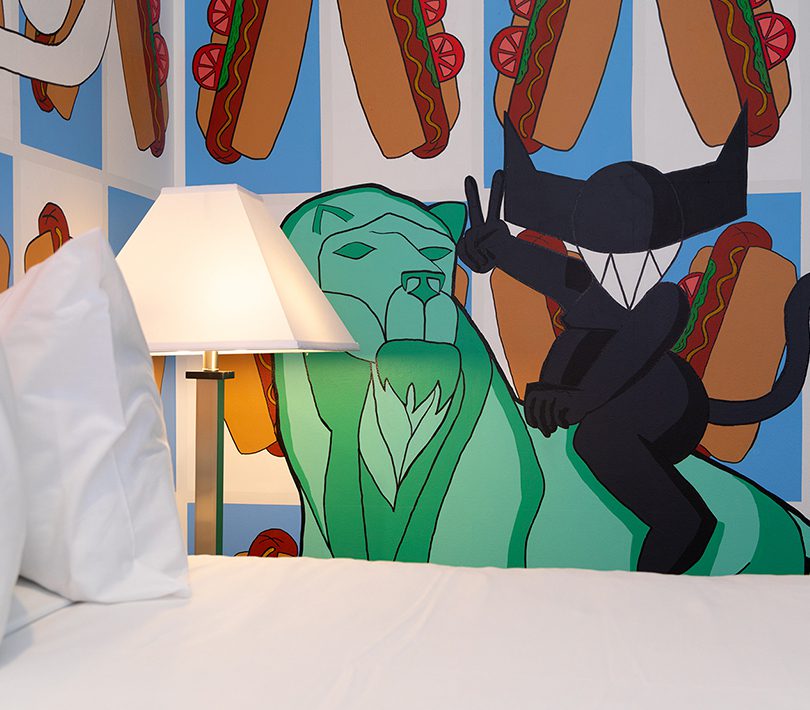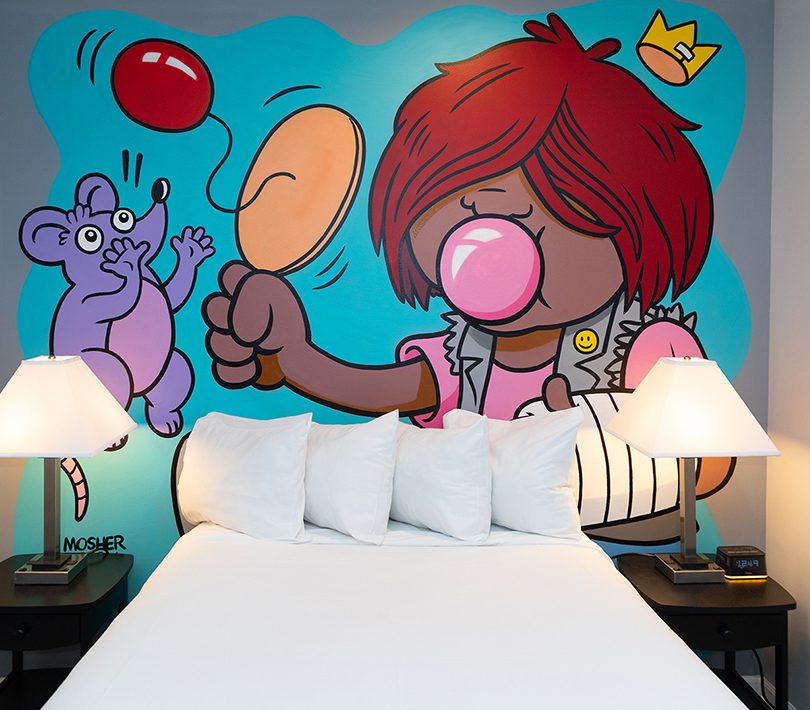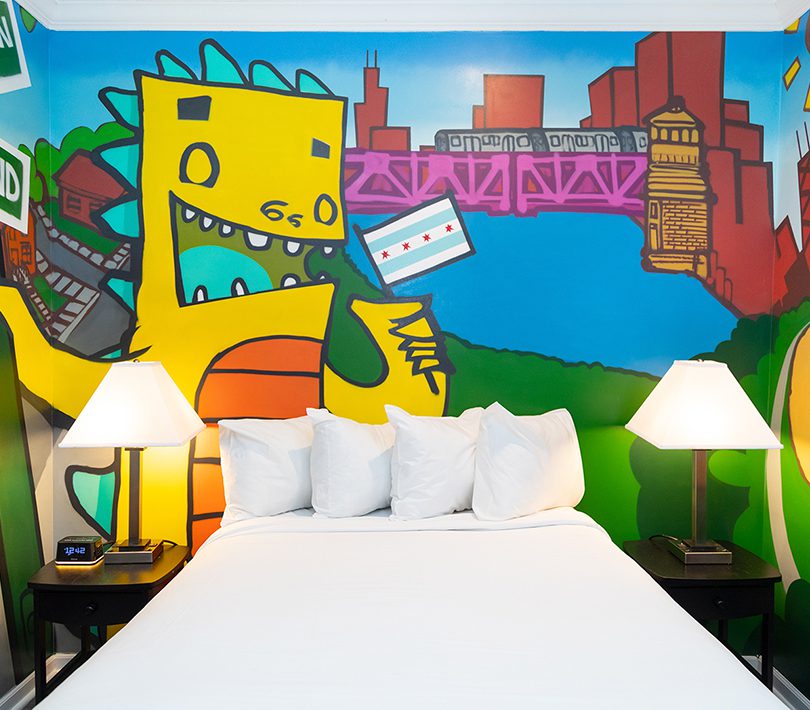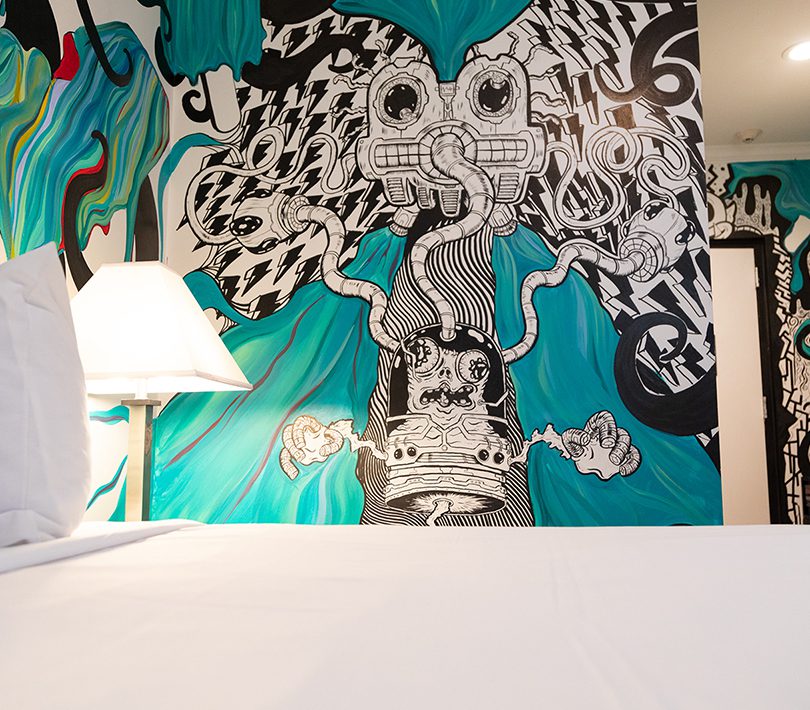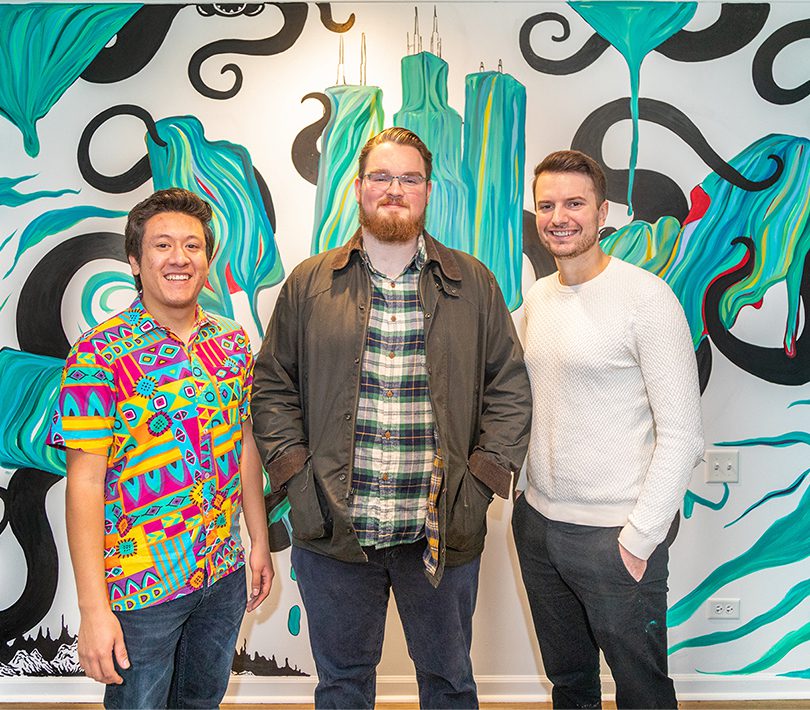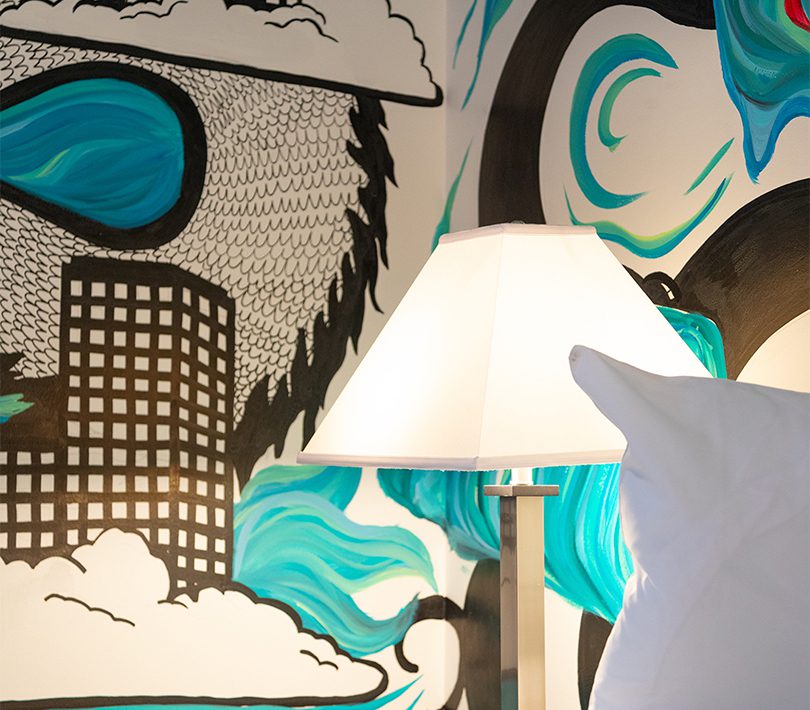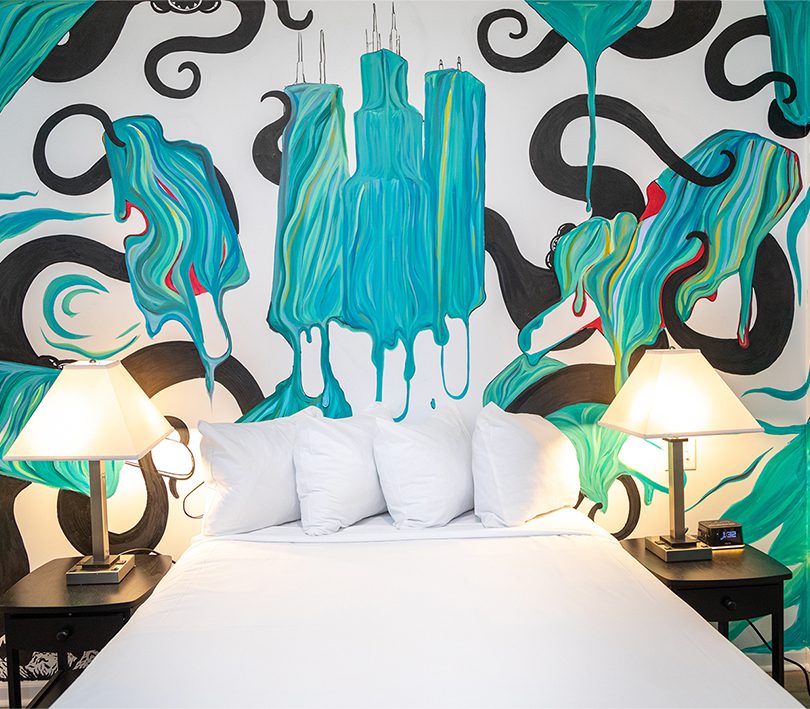 For The Annex, the three Chicagoans want to immerse the hotel's guests into their sketchbook, quite literally. Every inch of wall space is covered with drawings inspired by their love for the city while also bringing their vast array of characters and imagery interacting with the space. Most of the mural was improvised on the spot, fully utilizing the concept of a doodle to let their imaginations run wild. Viewers will see something new every time they look at this mural. Luis, Tom, and Tristan hope guests will get lost in all the stories depicted in this room.
"My work is an ongoing search for truth and enlightenment."

The Native Fauna Taste of Chicago:
DO NOT FEED THE ANIMALS. In the City of Chicago, this is clearly understood: there's a fine for up to $500 for feeding pigeons. However, humans cannot be held responsible for the food that the animals of Chicago procure through foraging, thievery, or ordering from carryout. The next time you walk through a city park, observe closely: the warm ashes? Chinese takeout boxes? Styrofoam cups of giardinaria? Yes, that's Chicago's resident animals on pique-nique. John Sandford's mural depicts a few of these animals, and a few of the foods of our city.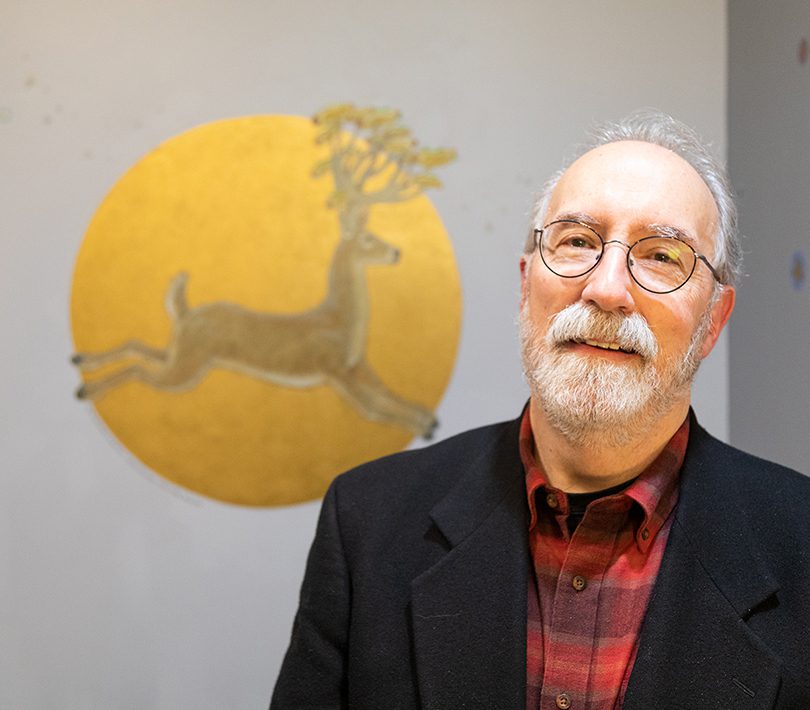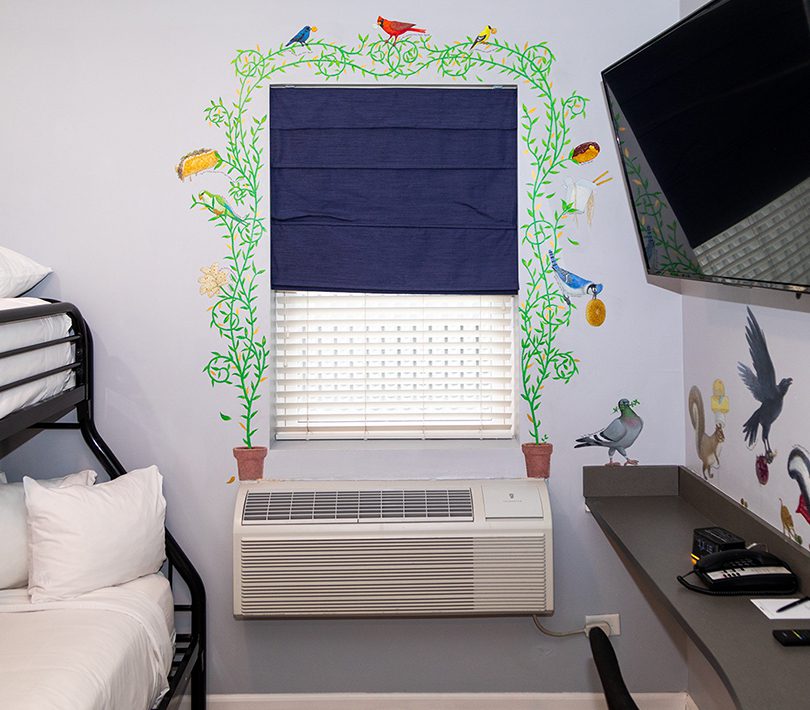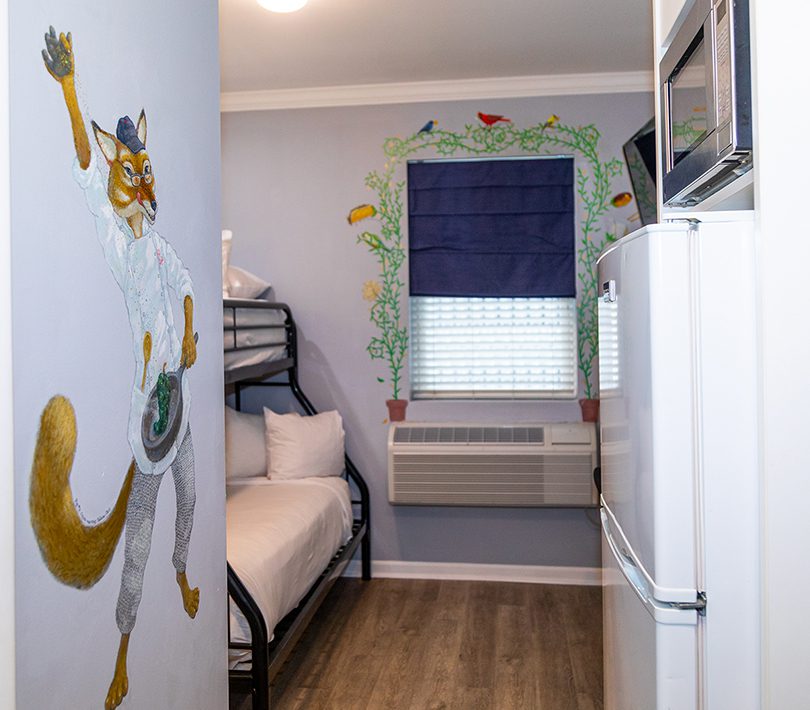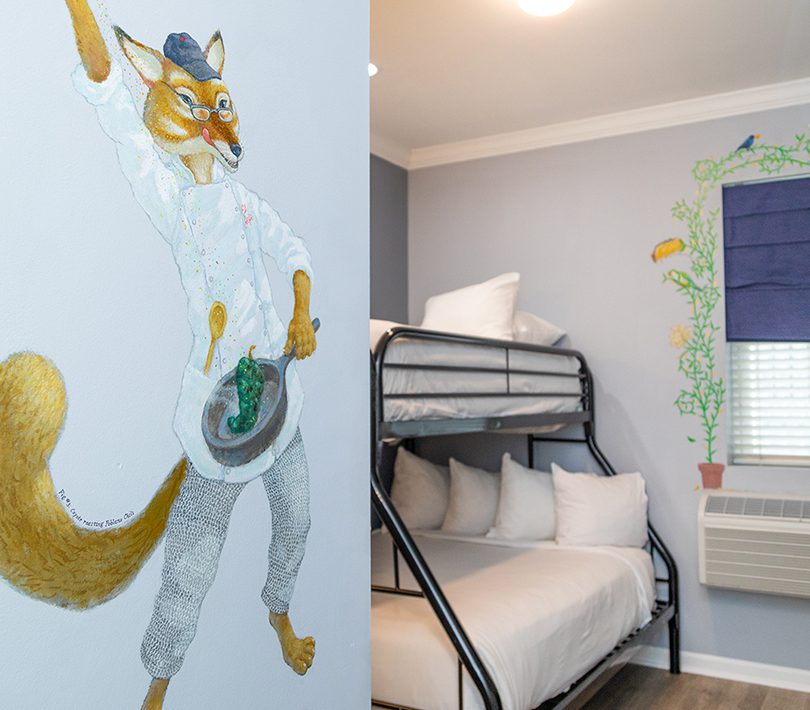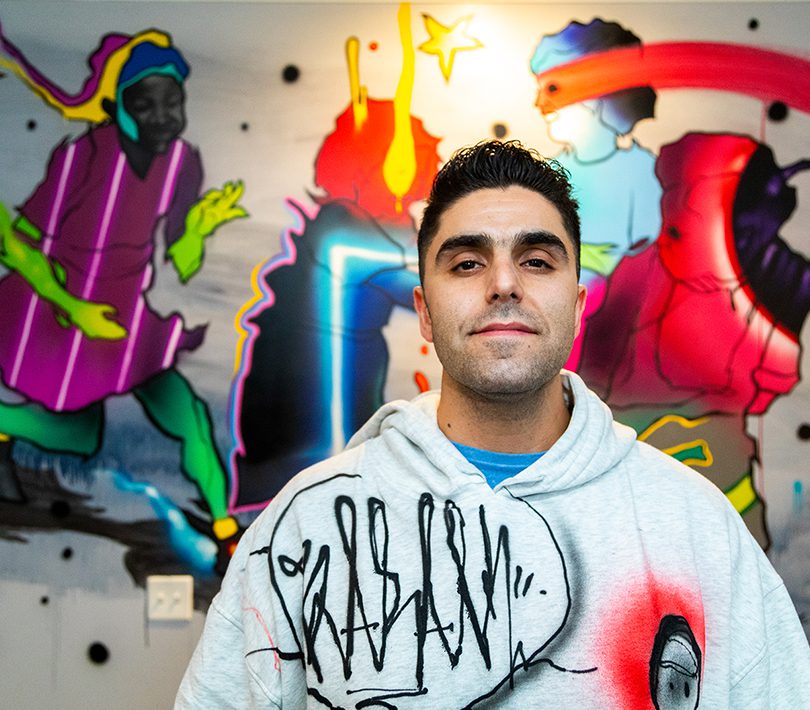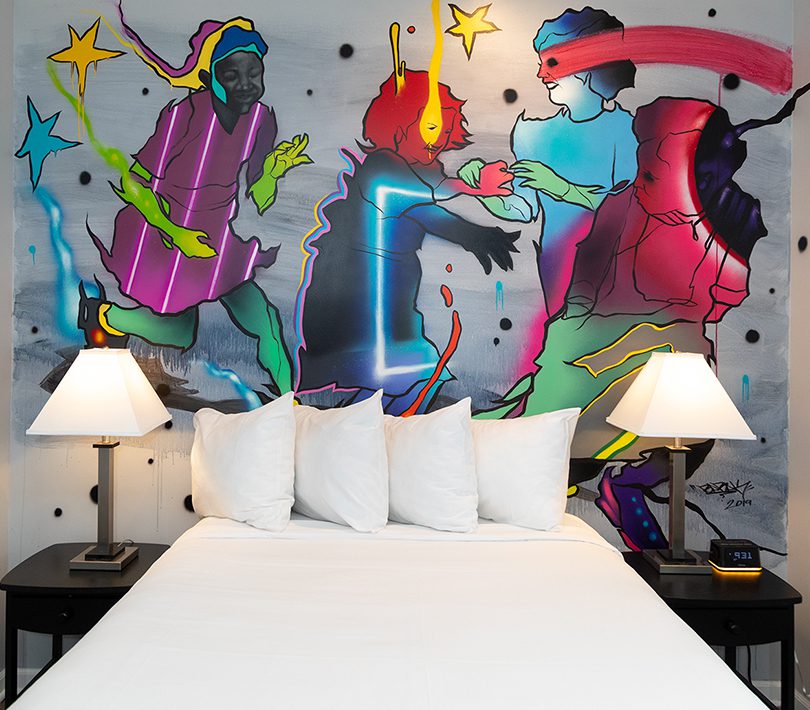 "For this work, I wanted to portray the youthful exuberance of children at play to evoke feelings of joy for Hotel Chicago visitors. My design captures Chicago's diversity – as a child growing up here I was fortunate to have friends from every corner of the world. This diversity is depicted in the design by the subjects themselves as well as my abstract use of color."
"Obsessed with cartoons and comic books, I began making art at a very young age and have continued drawing heavily from these early influences. My intention is to create visually impactful murals that are colorful and dynamic. My pieces tend to revolve heavily around character work. Curious landscapes populated by a cast of playfully absurd figures."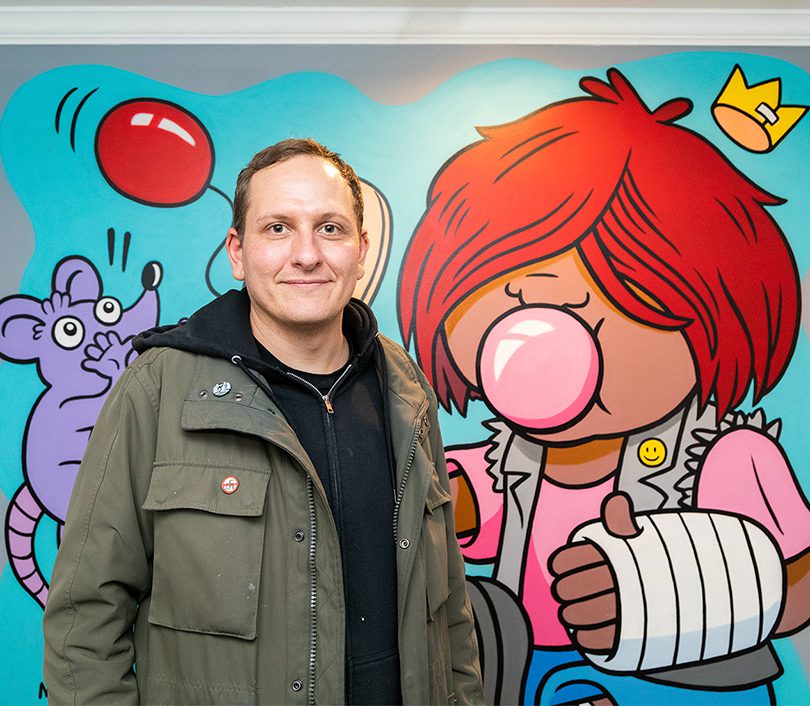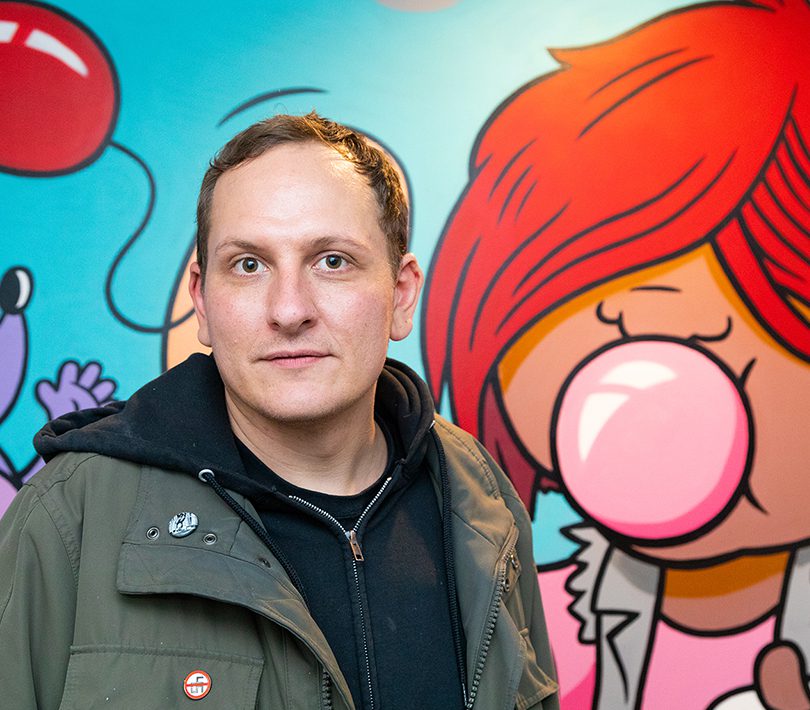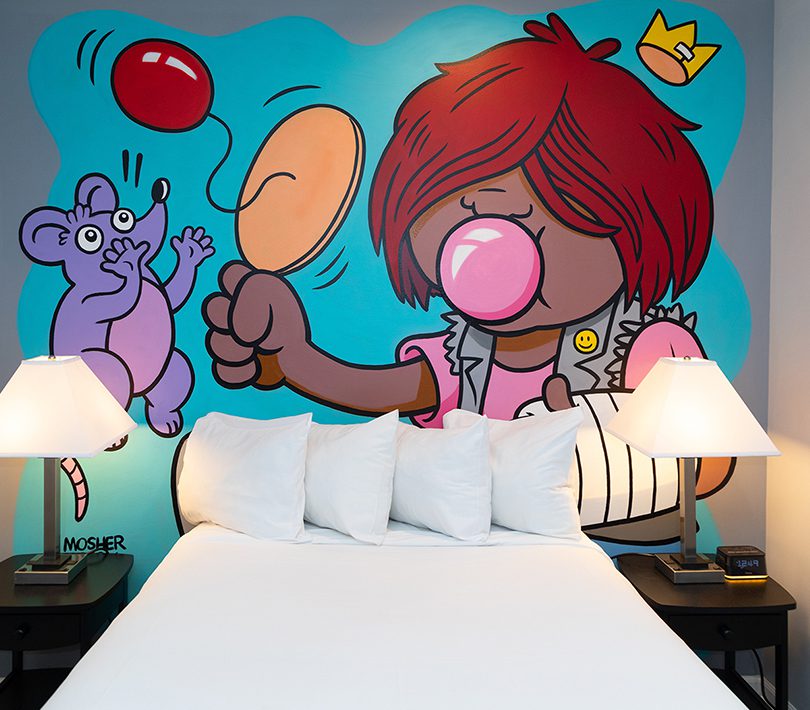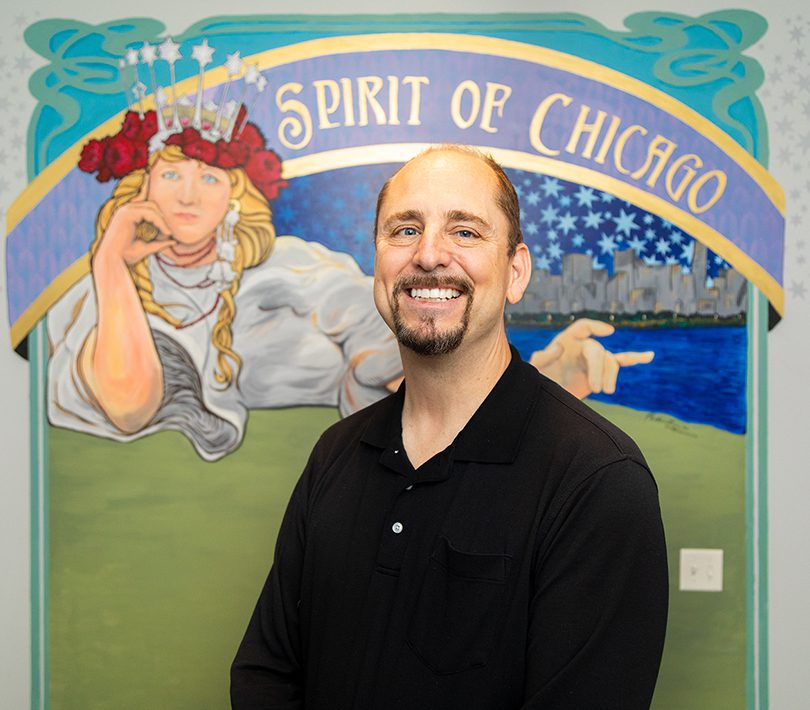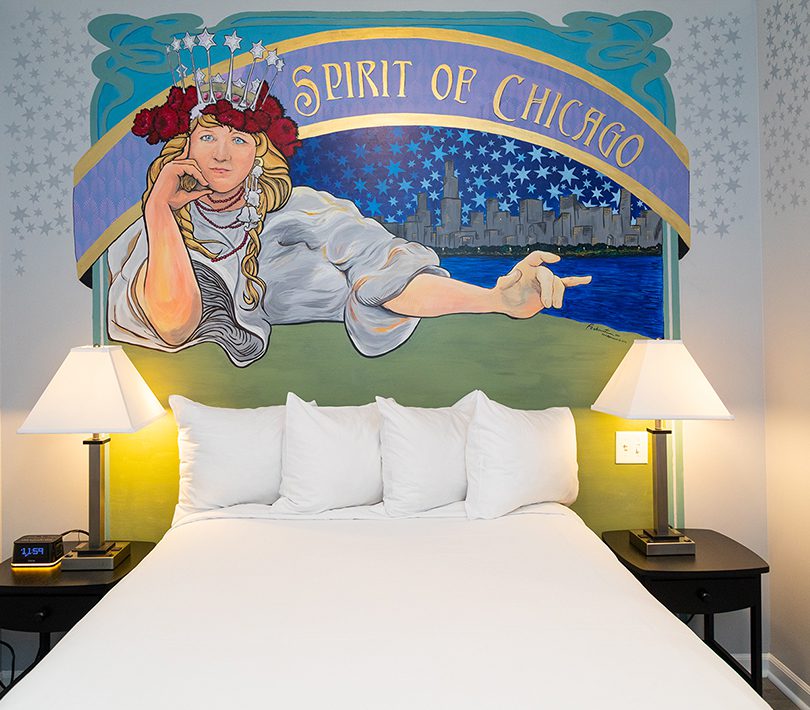 "The mural created for The Annex is titled "The Spirit of Chicago" and is meant to evoke feelings of the city's rich history and progress. Inspired by early 20th century lithography, especially the works of Czech poster maker Alphonse Mucha, this art nouveau piece is meant to be a contrast of old and new. The style and main iconography could have been created a hundred years ago, but incorporating the modern Chicago skyline along with the colors and stars of the Chicago flag give a not so subtle nod to the changes over the last century."
"The Annex Mural is a cluster of Chicago enjoyment. From the Art institute to the Chicago Hot Dog there's a lot of culture in Chicago and I wanted to pay homage to a little bit of all of it. There are at least 7 different Chicago staples located in the Mural. Can you find them all?"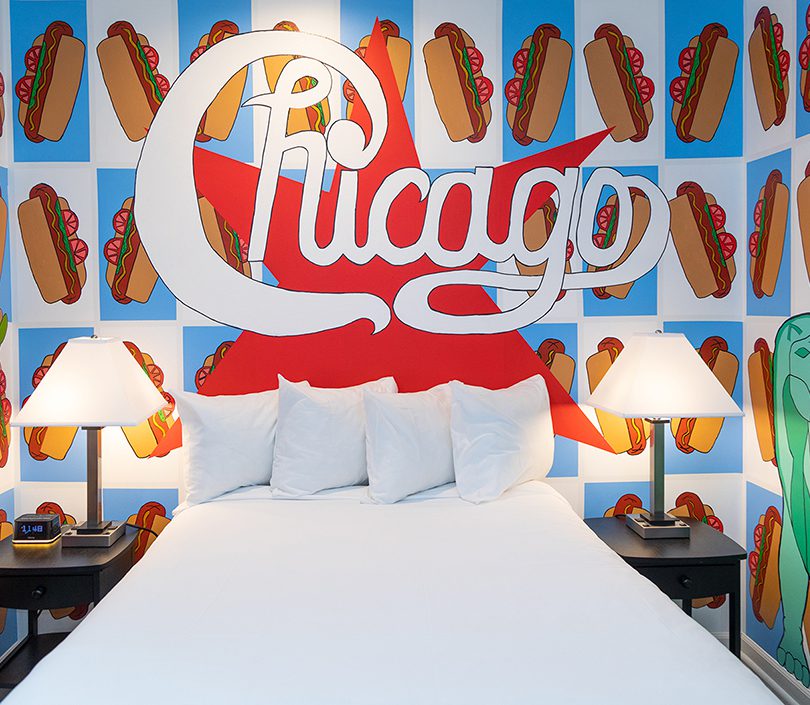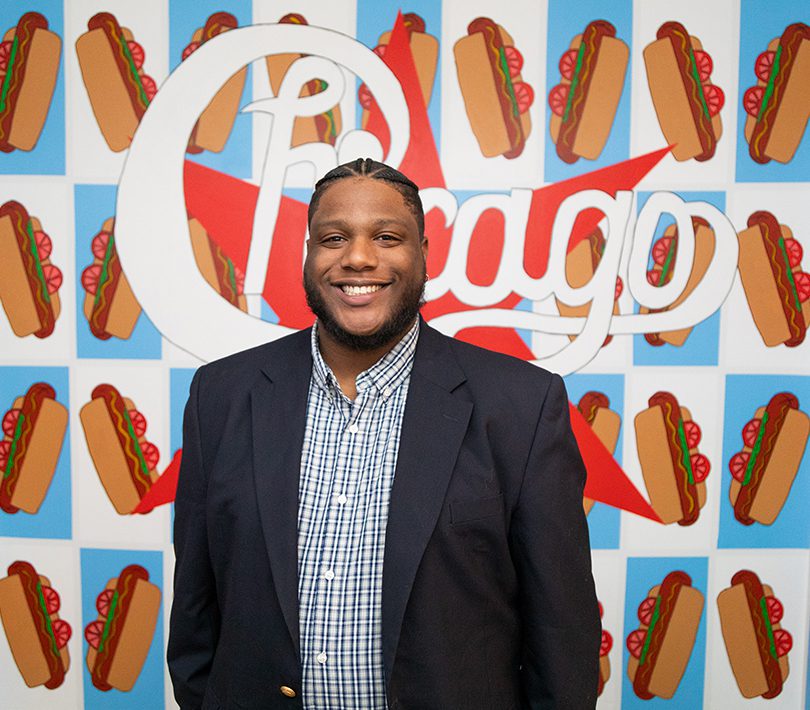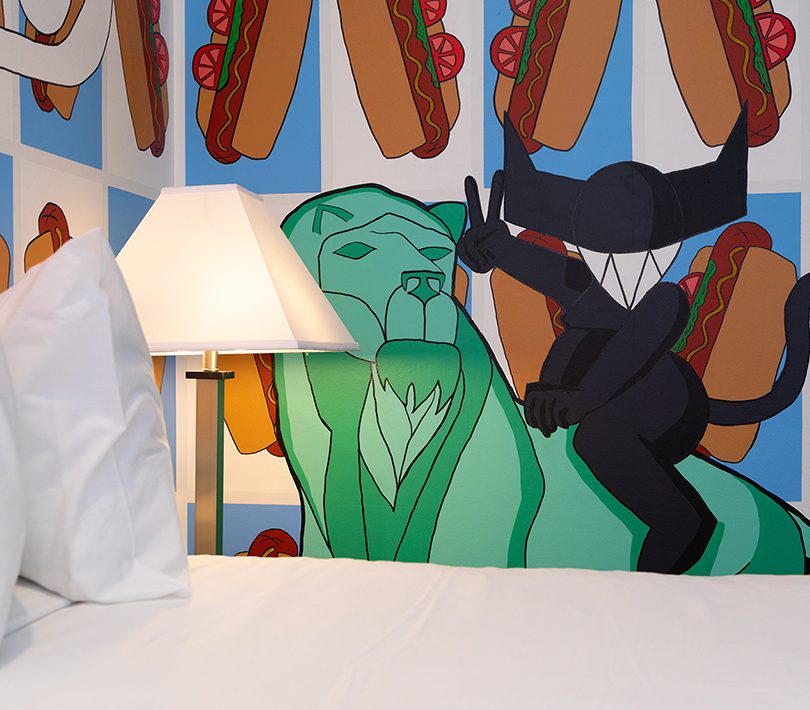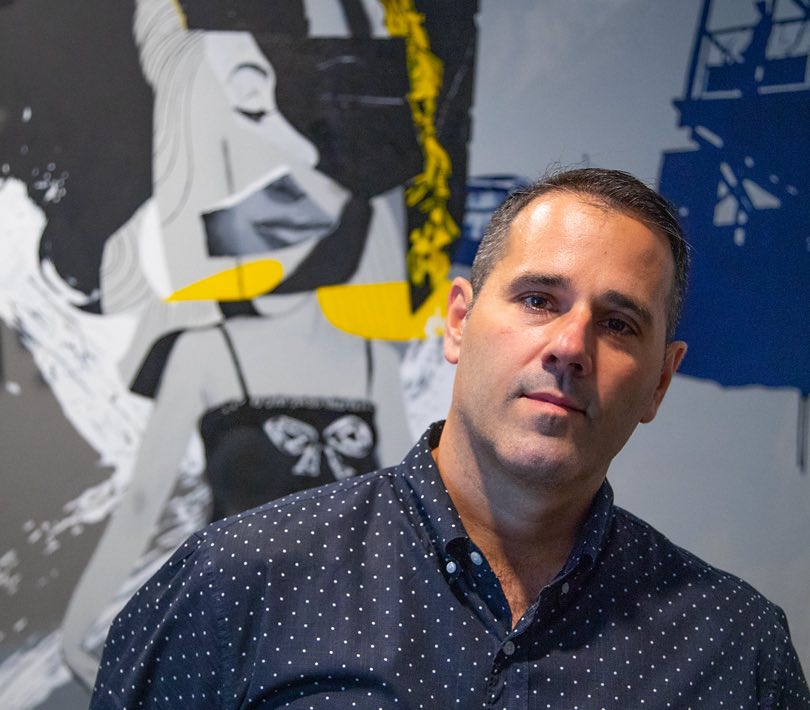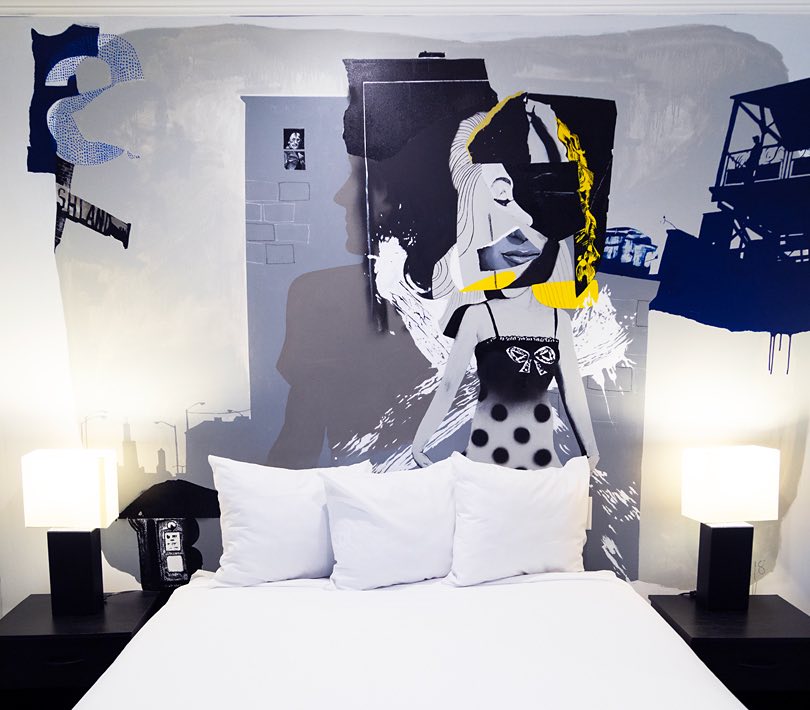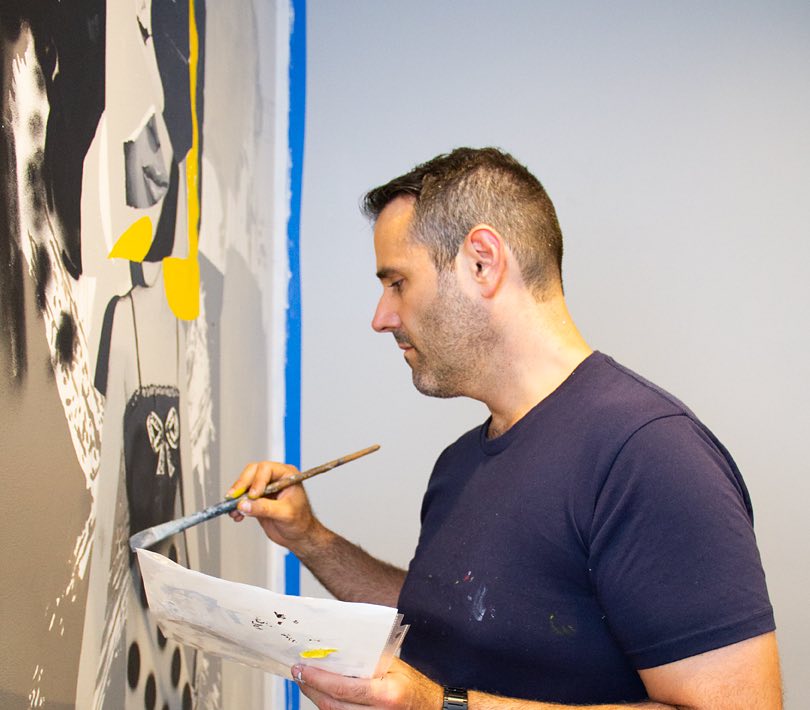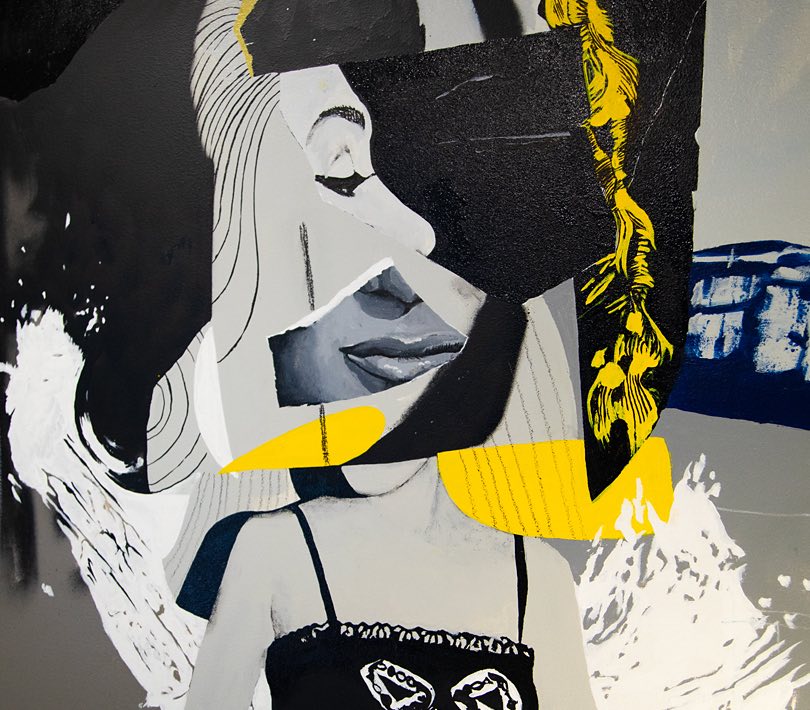 "I took particular attachment to this line: "And Chicago divided your heart. Leaving you loving the joint for keeps. Yet knowing it never can love you." I used two photographs taken of Algren by Art Shay as sources for the train silhouette and his portrait in the window. Shay was a writer and photographer for Life, Time, and other national publications."
"I wanted to create a sweet dreams love-lets fly away feeling. My characters are all an extension of me, my monster children. I love painting magic on walls."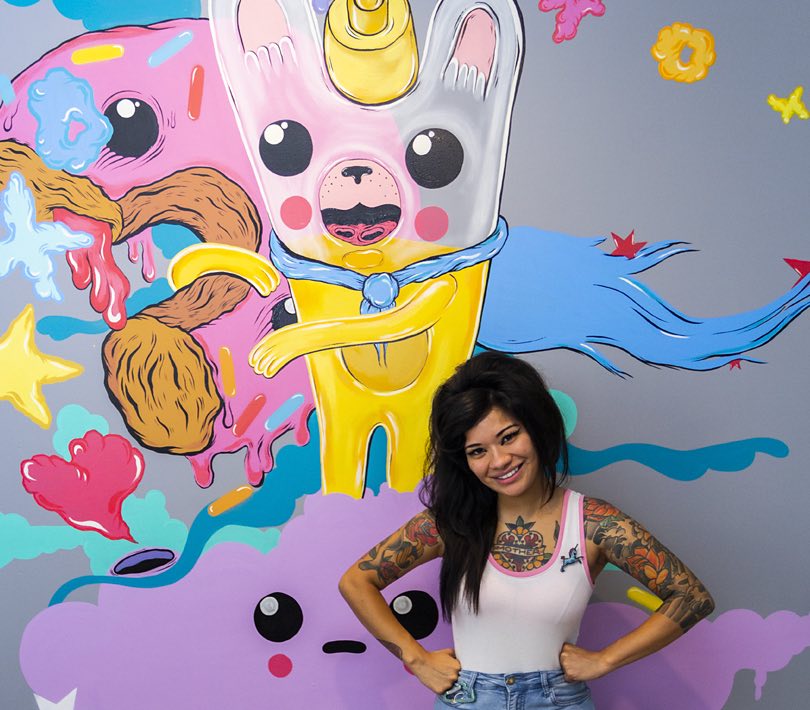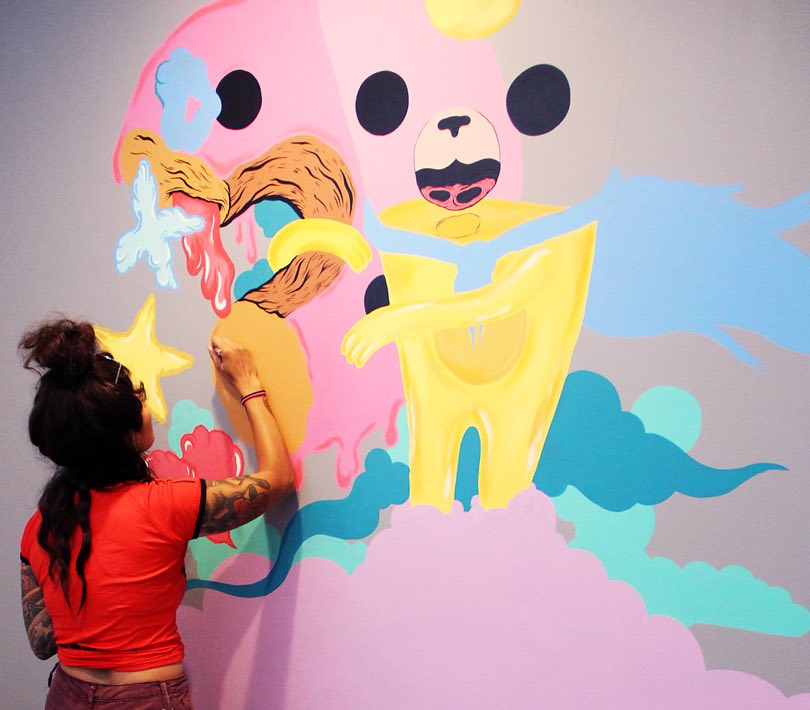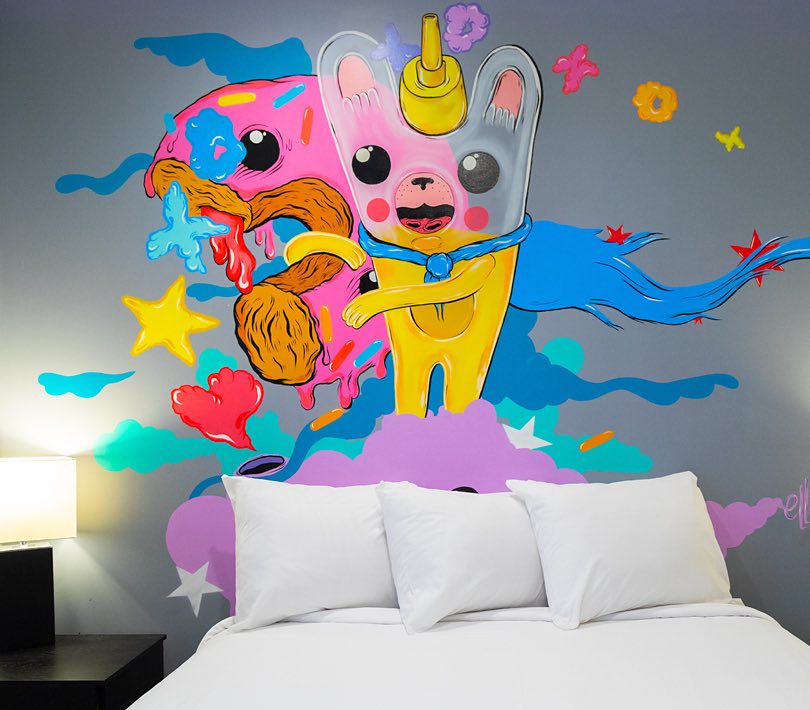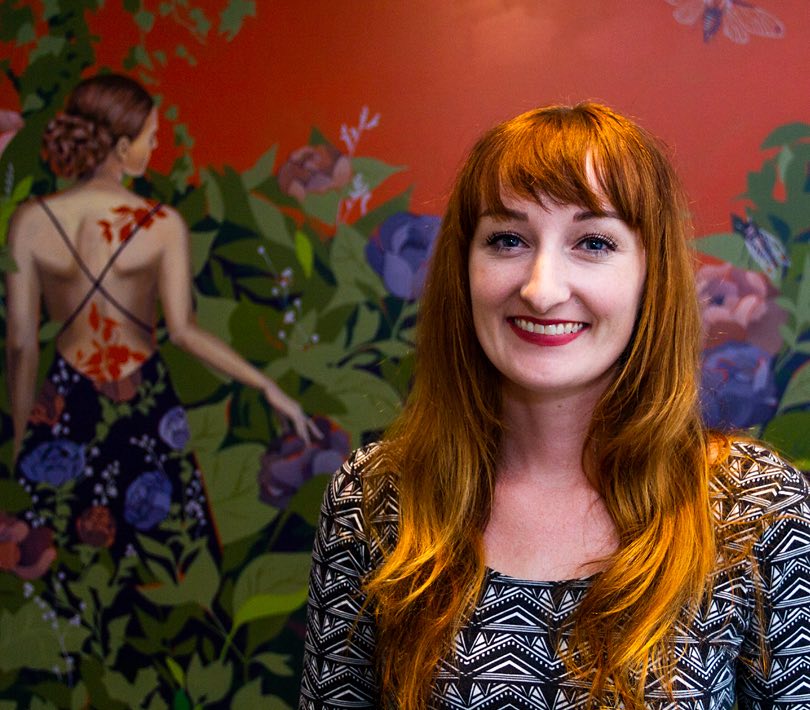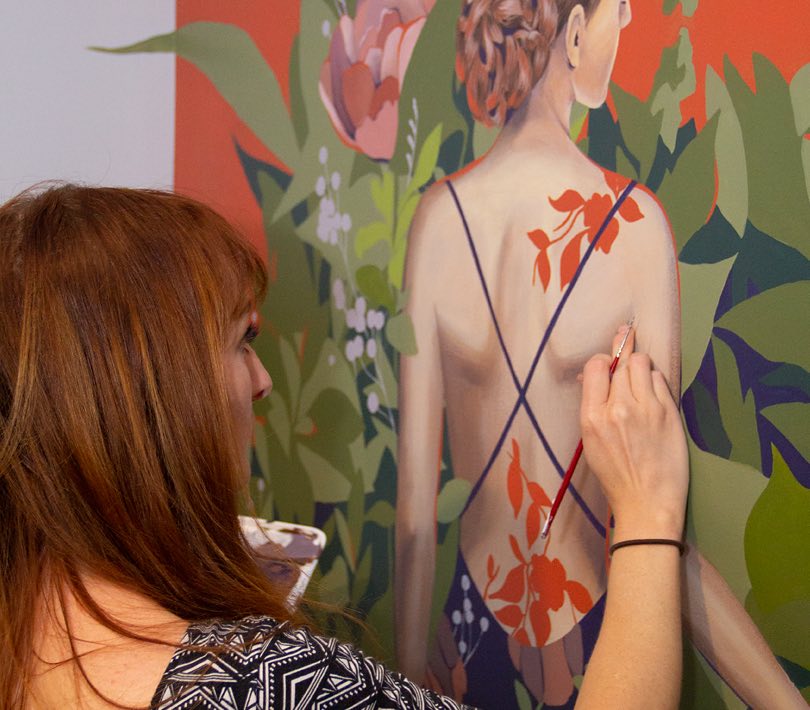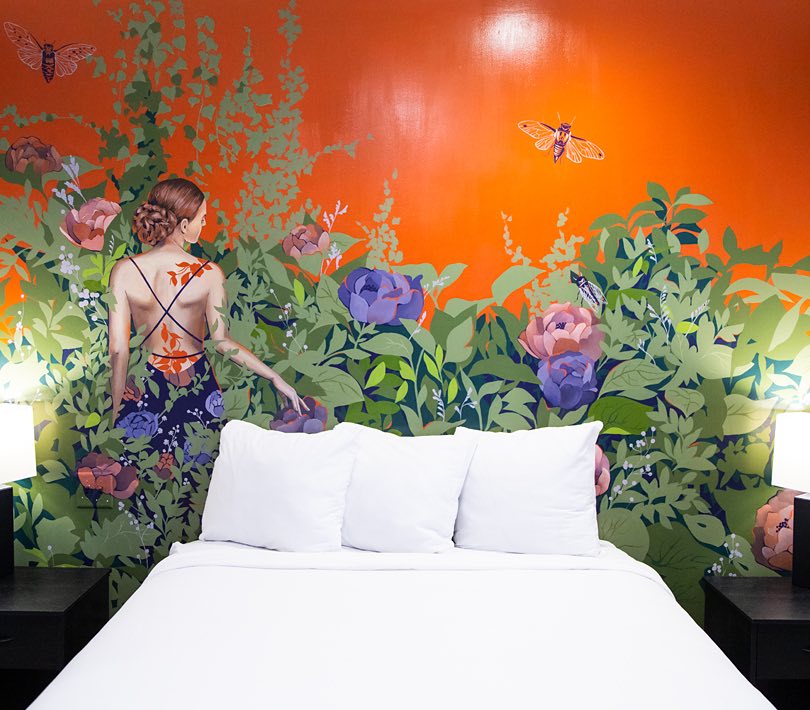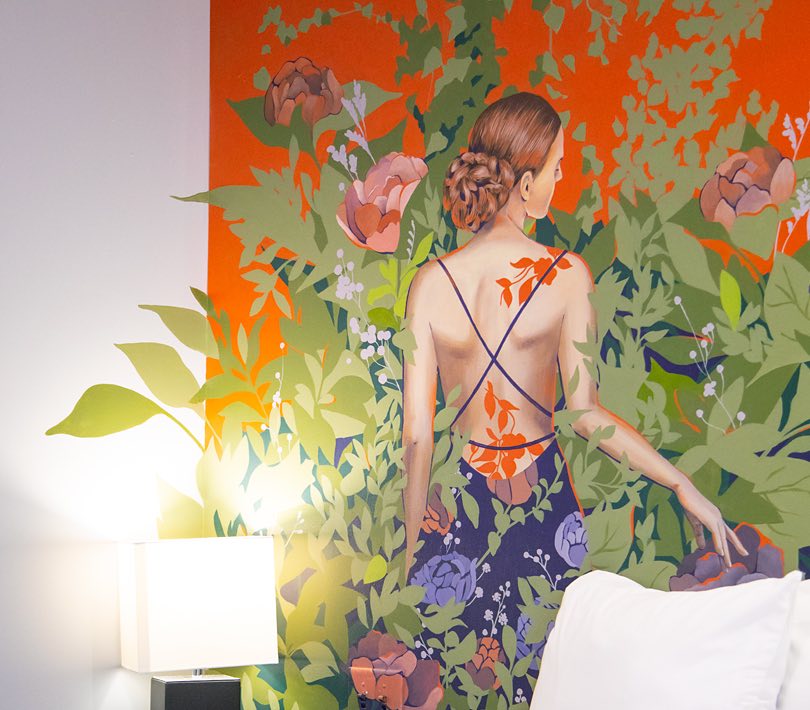 "I have always been fascinated by the blurred line between waking life and dreams, reality and perception. Children often see the world as large and foreboding, miraculous and awe-inspiring, overwhelming and magical. Their imagination enhances shadows, deepens darkness, draws to prominence the smallest drop of dew or shimmering particles of dust. Their perceptions become interwoven with reality, projecting their own awe and wonder upon everyday life. As an artist, I try to live in this space and make it visible to others."
"I first started drawing The Bear Champ in 2010, I wanted to create a character that was not human, and not too specific in terms of race, so it's more symbolic. He used to smoke, he was beat up, he had a little chip on his shoulder. I've been through a lot as an artist. I've been taken advantage of without getting recognition. I feel like I'm finally at an age when something is working for me, so that's when I started making the bear a little more positive. [and] gave him the crown—cause now he's a champion. It took him a while to get where he is, but now, he's more successful, more iconic, more positive, like me."