Things You Can Do in Chicago's Garfield Park
The Garfield Park neighborhood of Chicago is a nature lover's dream. The neighborhood is home to a sprawling network of green spaces, the centerpiece of which is the historic Garfield Park Conservatory. A trip to the neighborhood isn't complete unless you spend some time outside, but there's more to do and see outside of the park as well.
Begin your day at the beautiful Garfield Fieldhouse in the neighborhood's nameake park. The striking structure is designed in the ornate Spanish Baroque style and topped with a massive gold dome. Inside, you'll find a dramatic two-story rotunda with a colorful patterned terrazzo floor and marble-lined walls.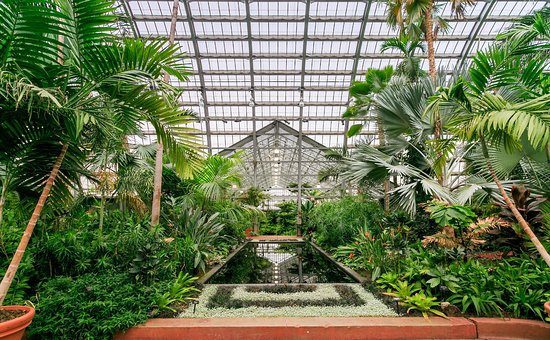 Take some pictures of the Fieldhouse before exploring the park grounds, which include lagoons, tennis courts, soccer fields, a playground, a swimming pool, and a flower garden.

Then, take a short walk to the Garfield Park Conservatory, a stunning glass structure that has been in operation for over 100 years. Outside, there are beautiful views of the conservatory and intricate gardens. Inside, you'll find rooms bursting at the seams with plants, flowers, and trees from all over the world.
The conservatory has no charge or fee to the public, but donations are welcome. Explore the themed rooms, which include palms, ferns, desert cacti, succulents, and other plants. Check out the events calendar — throughout the year, the space hosts beer tastings, yoga, coffee pop-ups, talks, and flower shows.
Drop by 345 Art Gallery in the afternoon. The gallery features a diverse collection of works by local artists, Chicago Public School students, and others. Check out their calendar for awesome events throughout the month.
Firebird Community Arts, located nearby, offers ceramics and glassblowing classes, private lessons, and workshops. The center's mission is to support those dealing with trauma by utilizing the healing nature of these art forms.
If you're an architecture fan, you can't leave the neighborhood without seeing Our Lady of Sorrows Basilica, one of the city's grandest churches known for its soaring interior, and New Mount Pilgrim Missionary Baptist Church, which has unique stained glass windows depicting powerful reminders of the African American community's struggles from the slave trade to the present day.
And if you wish to spend a relaxing stay nearby, you can visit Hotel Chicago for a great hotel experience. Aside from the cozy rooms we got, you will also enjoy hallways full of wonderful artworks. Book a stay with us now!