SEVEN TOP MURAL HOTELS IN THE U.S.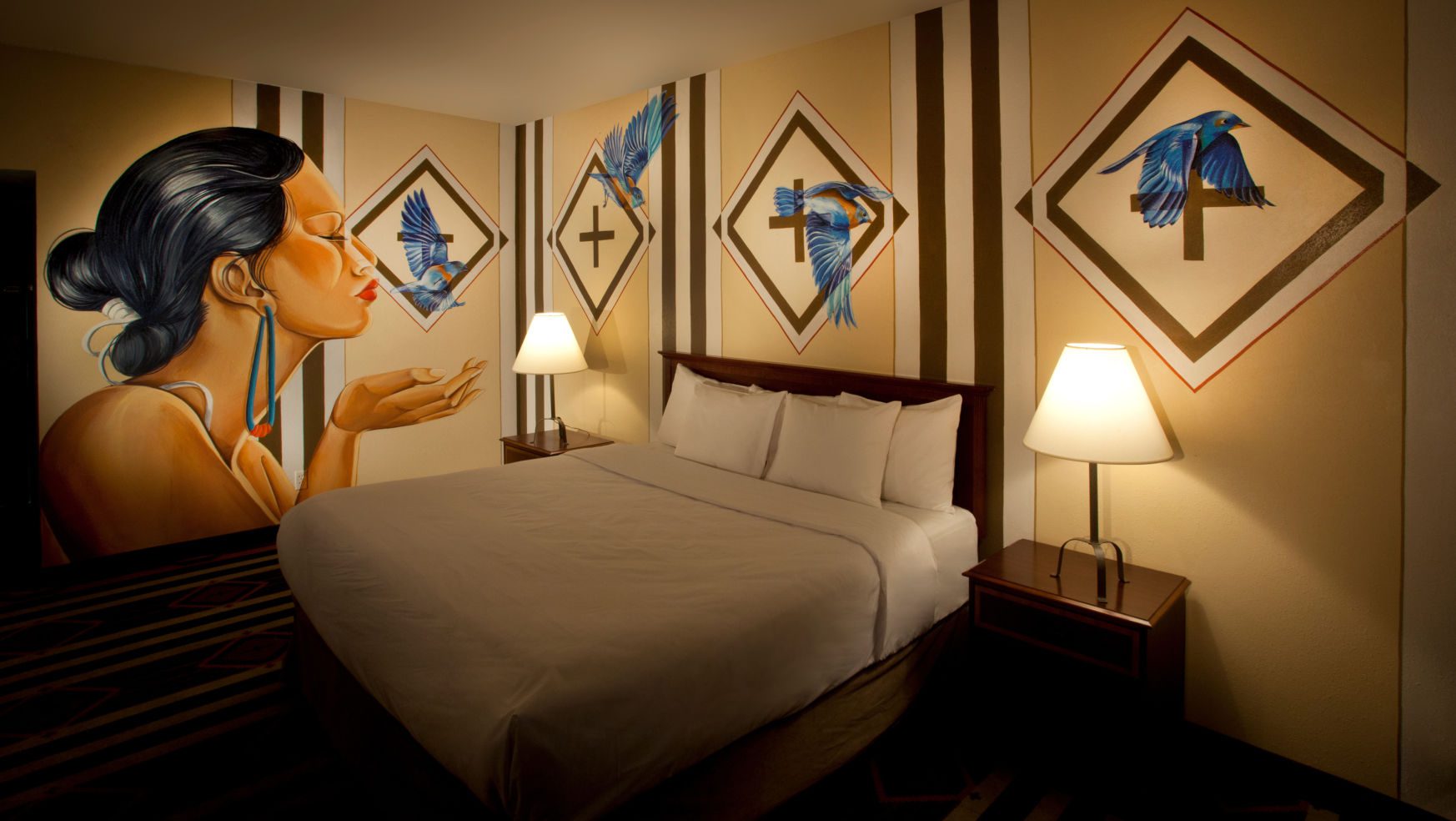 Hotel Chicago West Loop
Chicago, Illinois
Six rooms in Hotel Chicago West Loop's art-centric annex immerse guests in Windy City culture. Chicago-based artists including Josh Grotto, Brandin Hurley, Elloo, and Ascend have lent their talents to mural rooms, which showcase Chicago architecture, music, and history. Ascend's work is exhibited locally and internationally, including in top-notch art fairs like Art Basel; his paintings combine a classical approach to portraiture with contemporary backgrounds. When not in use, the street-art rooms are open for viewing, giving the public a chance to see the works outside hallowed museum halls or traditional galleries. The artistry is growing: In late 2019, street artists will install another six eye-popping guestroom murals. Art students will join the artists for mentorship during the installation of the new murals. Hotel Chicago West Loop plans eventually to install paintings in the majority of its 116 rooms. From $119
Nativo Lodge
Albuquerque, New Mexico
Heritage Hotels & Resorts called upon a stable of contemporary Native American artists to paint 47 guest rooms (and counting) with murals. The rooms feel like living inside an artwork; they touch every wall and even flow into the bathroom and vanity spaces. Their artwork is rooted in cultural traditions and symbolism, but it's expressed in vibrant and surprising ways. For example, in Love Movement, Jaque Fragua researched pre-Columbian Mesoamerican pottery designs in the Smithsonian Institute in Washington, D.C. and expressed these designs in a hot-pink background splashed with gold paint. In Sustenance, Warren Montoya expresses traditional hunting practices of the Pueblo (Native American) people in the Rio Grande Valley. From $118.
Hotel Des Arts
San Francisco, California
Hotel Des Arts certainly lives up to its artistic name: More than fifty guest rooms show installations or edgy, graffiti-art inspired murals. Internationally known street artists including Shepard Fairey, David Choe, Buff Monster, Jeremy Fish and Casey O'Connell have painted the one-of-a-kind room. David Cloe, a Los Angeles artist who painted room 304, has collaborated with everyone from Facebook to Jay-Z. Shepard Fairy, the South Carolina artist behind room 210, is perhaps most well-known for illustrating former President Barack Obama's "Hope" campaign poster. From $159
Hotel McCoy
Tucson, Arizona
In its first life, Hotel McCoy was a 1969 motor lodge, but in the fall of 2018 new owners transformed it into an art hotel. Hotel McCoy has worked with 48 (and growing) Tucson artists on the outdoor murals, and via the lobby art gallery and in-room art. The murals capture Tucson's creative side. They serve another purpose, too: "The inspiration behind my idea to incorporate art comes from my love of travel and addressing the feeling of homesickness that comes from it," says Nicole Dahl, general manager and creative director. "When we travel, often our hotel leaves us feeling empty, disconnected if you will. We wanted to fix that and offer people a place where they could stay and feel a connection." From $109
Hotel Vintage Portland
Portland, Oregon
Graffiti artist Andrew Horner freestyled three of Hotel Vintage Portland's original murals in 2015. Just him, spray paint, and inspiration emanating from Portland's sub-cultures. He incorporated Portland landmarks and symbols, like roses after the City of Roses' nickname, in paintings located in a game lounge, downstairs hallways, and the main entrance stairwell. In 2016, this trio doubled when Viva La Free, a Portland non-profit that teaches at-risk youth to use art for healing, painted three additional murals on the fences of the Urban Soak Suites. The hotel is an urban outpost in Oregon's wine country, the Willamette Valley, and the murals have a (perhaps surprising) similarity to wine: Just as a wine's flavor blossoms with each sip, the murals reveal hidden elements over time. From $218
W Hotel Bellevue
Bellevue, Washington
The artists behind W Hotel Bellevue's six murals may hail from outside the Pacific Northwest, but they certainly capture its vibe. Baltimore-based street artist Gaia gives a lesson in the past, present, and future of Bellevue in Settler Futurity. The towering, three-story mural on the main stairwell showcases the city's agricultural roots with depictions of strawberry fields, and points to its present and future with aviation references. Other murals include three by Japanese-born and Brooklyn-based Lady Aiko, and two murals by San Francisco artist Zio Ziegler. The W brand hotels emphasize design and the Bellevue edition lives up to that mission. From $289.