HOTEL CHICAGO WEST LOOP EXPANDS ANNEX ART INITIATIVE WITH TWO EXHIBIT LAUNCHES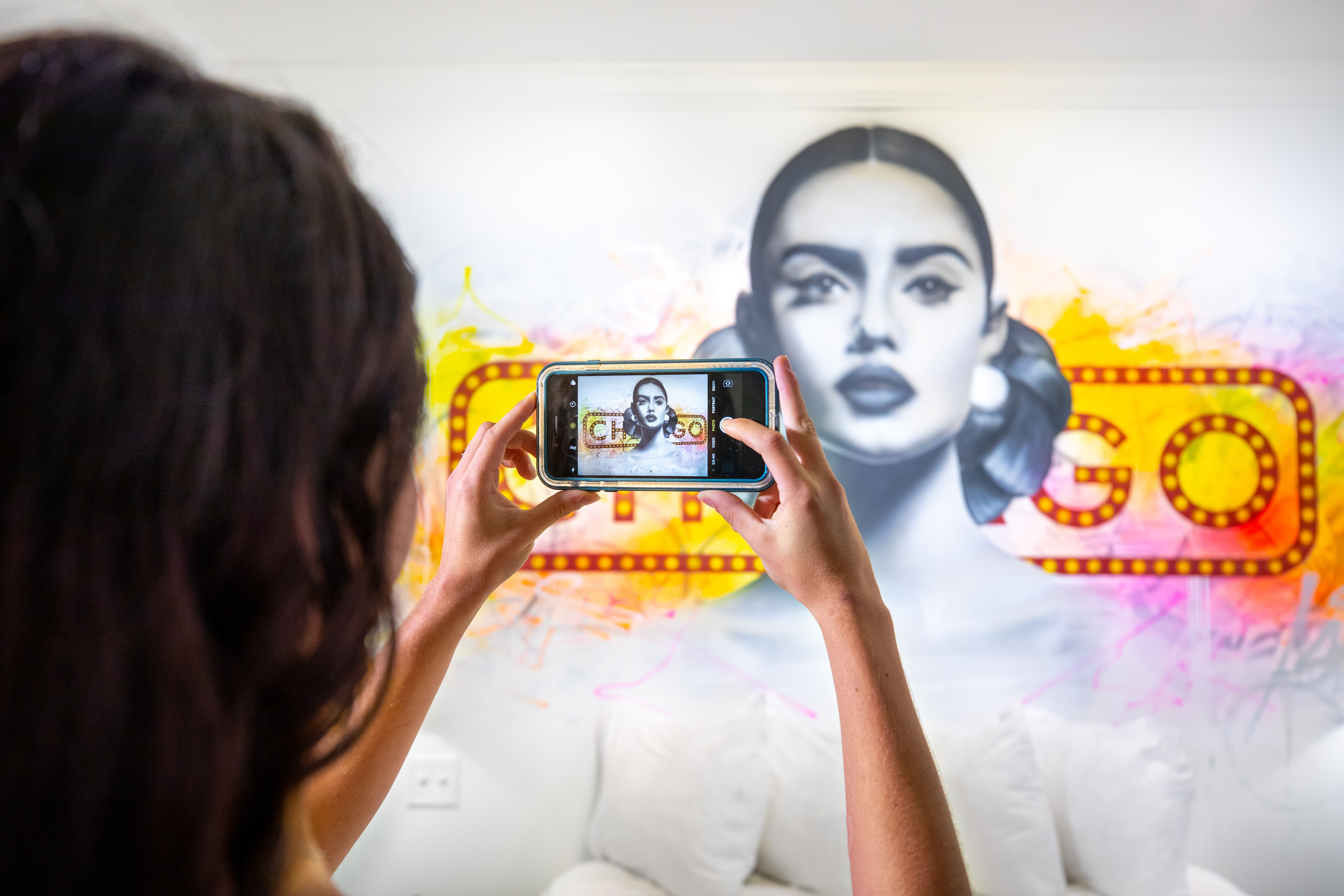 The three-year-old Hotel Chicago West Loop is continuing to redefine the local boutique hotel landscape by expanding its cutting-edge art exhibitions this month. On November 19th, the dual-purpose art and lodging venue will host an opening reception to unveil the newest and most extensive additions to date to its renowned Annex art initiative. For starters, eight more mesmerizing street murals (inside guestrooms) by 10 leading Chicago urban artists are being added to the hotel's growing Annex | Murals exhibit. A juried contest will inject another layer of excitement to the new murals launch by awarding one of the artists the hotel's 4-story exterior mural job. Additionally, the Annex | Shirley Ryan AbilityLab Showcase – an inspirational exhibit that debuted earlier this year starring artists with functional impairments – will also introduce its next rotation of artwork at the opening event.
"We want to be known as Chicago's neighborhood hotel and art gallery," said General Manager Jean-Luc Laramie. "Hotel Chicago West Loop gives guests a unique experience by mixing cultural experiences with comfortable and affordable accommodations."
The Annex at Hotel Chicago West Loop currently encompasses the lobby, all four levels of guest hallway spaces, and select guestrooms with over 100 pieces of 2-D media, both permanent works and rotating exhibits. On November 19th between 6 pm and 9 pm, Hotel Chicago West Loop will celebrate its latest installments at the Annex with an opening reception for the public that includes complimentary catered food and drinks as well as artists represented from the following featured exhibitions:
Annex | Murals:
The groundbreaking Annex | Murals program adds another element to the hotel/gallery concept by pulling visitors beyond the public space and into the guestrooms for viewing floor-to-ceiling wall murals. When not in use, the featured street mural rooms are open and on public display – as is the rest of The Annex in effort to produce an alternative gallery experience for visitors. Joining the six that were previously installed, the eight new murals launching on November 19th (painted by Asend, Mosher, Feral Grin, Tom Perkowitz, Louis Barak, Mr. Sandford, Quintero, and a collective of three muralists from Colindres Art) will be judged at the opening reception by a committee of Chicago professionals with both art and non-art backgrounds. The winning artist will receive a $20,000 stipend and the opportunity to showcase their mural work on the entire 4-story outside wall in 2020 – further elevating the hotel's position in the local art community. Besides its outside walls, the hotel plans to eventually decorate the majority of its 116 guestrooms with street mural artwork.
Annex | Shirley Ryan AbilityLab Showcase:
In February 2019, Hotel Chicago West Loop announced a partnership with Shirley Ryan AbilityLab (formerly the Rehabilitation Institute of Chicago) — the global leader in physical medicine and rehabilitation for adults and children with the most severe, complex conditions — to display more than 30 pieces of art by patients with functional impairments. The Annex | Shirley Ryan AbilityLab Showcase, which is being exhibited in the hotel's rotating gallery wing on the third floor, will introduce a brand-new rotation of art beginning November 19th by 11 artists who have survived a range of catastrophic injuries and complex conditions, from spinal cord and brain injuries to rare mobility disorders and paralysis. Art Therapy at Shirley Ryan AbilityLab leverages the creative process to help improve the physical, mental and emotional well-being of patients.
Annex | Murals as well as the Annex | Shirley Ryan AbilityLab Showcase and the Annex | Permanent Collection is open to the general public for daily tours. Media should contact hotel publicist Jody Grimaldi at Jody(at)grimaldipr(dot)com for interview requests, guided tours or images. On an ongoing basis, the Annex at Hotel Chicago West Loop plans to continue to collaborate with Shirley Ryan AbilityLab, Chicago street artists and other cultural partners for future exhibitions.
More About Hotel Chicago West Loop:
Hotel Chicago West Loop is a stylish boutique property that has been called one of the Top 10 budget-friendly hotels by USA Today. A stay here includes cultural immersion, as the dual-purpose "neighborhood hotel" doubles as a full-functioning art gallery. To further support the local arts community, Hotel Chicago West Loop donates 10% of all regular room rates (when booked using promo code "ANNEX") to designated local non-profit organizations that promote artistry such as Shirley Ryan AbilityLab.
https://www.hotelchicagowestloop.com/
1622 W Jackson Blvd Chicago, IL 60612
(312) 243-2900
FB: Hotel Chicago West Loop
IG:@hotelchicago